Renault Clio: Deadlocking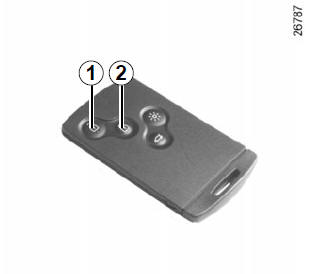 If the vehicle is equipped with a deadlocking function, this allows you to lock the opening elements and to prevent the doors from being unlocked using the interior handles (for example, by breaking the window and then trying to open the door from the inside).
Never use deadlocking if someone is still inside the vehicle.
To activate deadlocking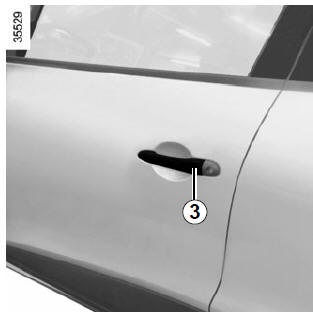 Vehicle with RENAULT card
Press button 2 twice in quick succession.
Vehicle with RENAULT "hands-free" card
With the vehicle unlocked, you can also press the button 3 on the driver's or passenger's side door twice in quick succession.
In both cases, locking is indicated by the hazard warning lights flashing five times.
To deactivate deadlocking
Unlock the vehicle using button 1 on the RENAULT card.
The hazard warning lights flash once to indicate that the doors have been unlocked.
After activating the deadlocking function using button 2, "handsfree" locking and unlocking are deactivated.

To reactivate the "hands-free" mode: restart the vehicle.
READ NEXT:
Opening the doors from the outside Front doors With the doors unlocked, pull handle 1. Special feature of the RENAULT "hands-free" card With the doors locked, press button 2 on handle 1
Locking/Unlocking the doors from the outside This is done using the RENAULT Card; see the "RENAULT Card" information in Section 1. In certain cases, the RENAULT card may not work: if t
Operating principle After the vehicle is started, the system automatically locks the doors when you are driving at approximately 6 mph (10 km/h) and over. The door can be unlocked: by p
SEE MORE:
LEFT-HAND DRIVE, and WITHOUT ANTI-LOCK BRAKING SYSTEM REMOVAL I - REMOVAL PREPARATION OPERATION Position the vehicle on a two-post lift (see Vehicle: Towing and lifting) (MR 392, 02A, Lifting equipment). Remove: the engine cover, the engine undertray, the air filter unit air inlet pipe,
The presence and location of this equipment depends on the vehicle version. Multimedia touchscreen; Multimedia sockets; Steering column control; Voice commands; Microphone. Refer to the equipment instructions for information on how to operate this equipment.
© 2016-2022 Copyright www.rclio.com