Renault Clio: General information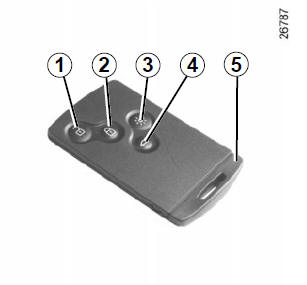 Unlocking the doors and tailgate.
Locking all doors and tailgate.
Switch on the courtesy lighting remotely.
Unlocking/locking the tailgate
Integrated key.
The RENAULT card is used for:
locking/unlocking the doors and tailgate (doors, tailgate) and the fuel filler flap (see the following pages);
switch on the vehicle lighting remotely (refer to the following pages);
starting the engine; refer to the information on "Starting the engine" in Section 2.
Battery life
Make sure that the correct battery type is being used, and that the battery is in good condition and inserted correctly.
Its service life is approximately two years: replace it when the message "KEYCARD BATTERY LOW" appears on the instrument panel (refer to the information on the "RENAULT card: battery" in section 5).
RENAULT card operating range
This varies according to the surroundings: when handling the RENAULT card, it is important to make sure that you do not lock or unlock the doors by inadvertently pressing the buttons.
When the battery is flat, you can still lock/unlock and start your vehicle.

Refer to the information on "Locking/unlocking the doors" in Section 1 and "Starting the engine" in Section 2.
Driver's responsibility Never leave your vehicle with the RENAULT card inside and never leave a child (or a pet) unsupervised, even for a short while.

They may pose a risk to themselves or to others by starting the engine, activating equipment such as the electric windows or by locking the doors.

Risk of serious injury.
Integrated key 5
The integrated key is used to lock or unlock the front left-hand door if the RENAULT card does not work:
when the RENAULT card battery is drained, flat battery, etc.
use of devices using the same frequency as the card;
vehicle located in a high electromagnetic radiation zone.
Access to key 5
Press button 6 and pull on key 5 then release the button.
Using the key
Please refer to the information on "Locking and unlocking the opening elements".
Once you have accessed the vehicle using the integrated key, replace it in its housing in the RENAULT card, then insert the RENAULT card into the card reader to start the vehicle.
Advice Avoid leaving the card in hot, cold or humid areas.

Do not keep the RENAULT card in a place where it could be bent or damaged accidentally, such as in a back pocket of a garment.
Replacement: need for an additional RENAULT Card If you lose your RENAULT card or require another, you can obtain one from an authorised dealer.

If a RENAULT card is replaced, it will be necessary to take the vehicle and all of its RENAULT cards to an approved Dealer to initialise the system.

You may use up to four RENAULT cards per vehicle.
READ NEXT:
Unlocking the doors and tailgate Press button 1. The hazard warning lights flash once to indicate that the doors have been unlocked. When unlocking the driver's door only is activated:
If the vehicle is equipped with a deadlocking function, this allows you to lock the opening elements and to prevent the doors from being unlocked using the interior handles (for example, by b
Opening the doors from the outside Front doors With the doors unlocked, pull handle 1. Special feature of the RENAULT "hands-free" card With the doors locked, press button 2 on handle 1
SEE MORE:
It is normal for an engine to use oil for lubrication and cooling of moving parts and it is normal to top up the level between oil changes. However, contact your approved Dealer if more than 0.5 litres is being consumed every 600 miles (1,000 km) after the running in period. Oil change f
C85 REMOVAL I - REMOVAL PREPARATION OPERATION Remove: the rear wing panel lining (see 71A, Body internal trim, Rear panel lining: Removal - Refitting, 71A-32), the rear roof drip moulding lining (see 71A, Body internal trim, Side roof rail rear trim: Removal - Refitting, 71A-17), the r
© 2016-2023 Copyright www.rclio.com