Renault Clio: General Vehicle Information
Vehicle Mechanical Specifications
Vehicle: Specifications
B85 or C85 or S85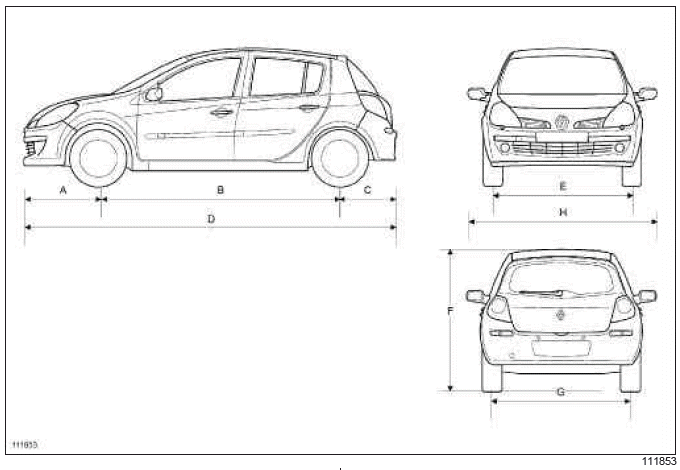 K85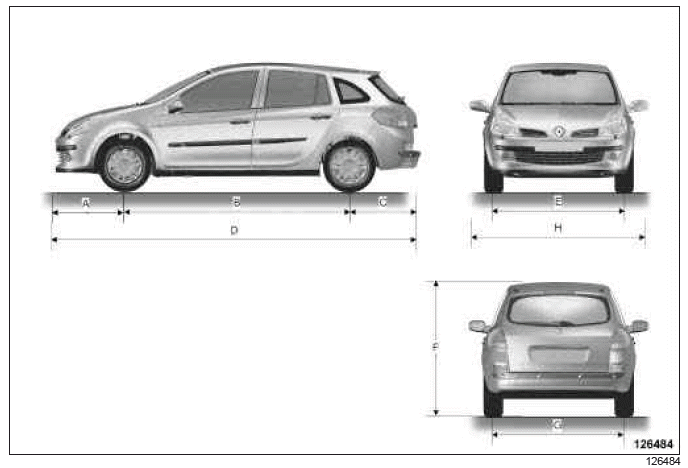 Dimensions in metres :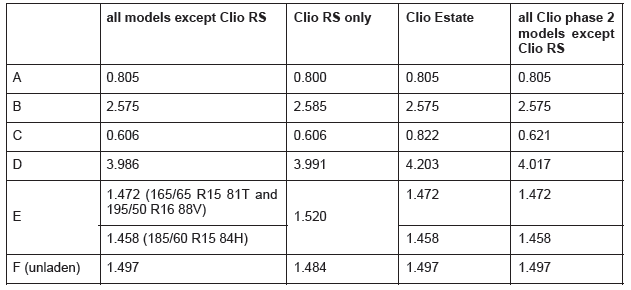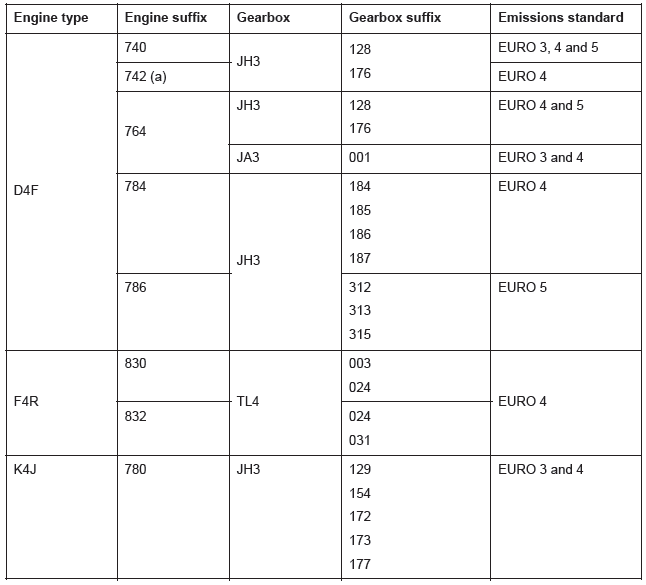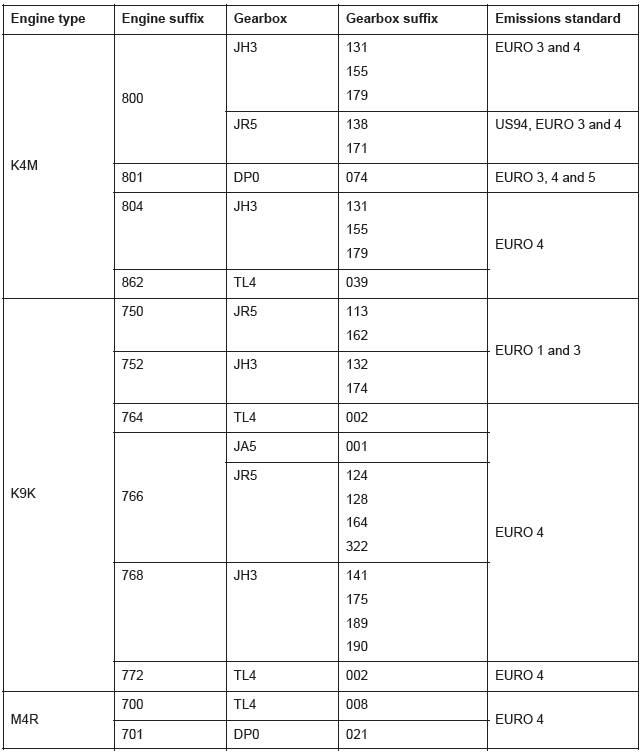 a: Engine running on an ethanol/petrol mixture.
Vehicle Bodywork Specifications
Vehicle: Identification
I - LOCATIONS OF THE VEHICLE IDENTIFICATION PLATE
C85 or S85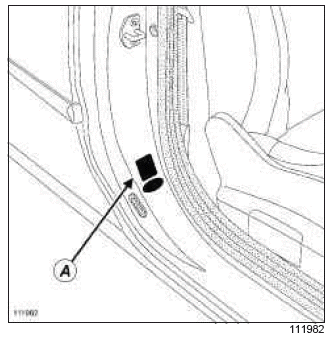 B85 or K85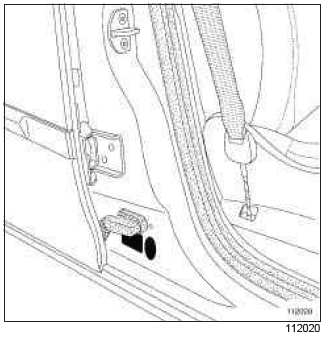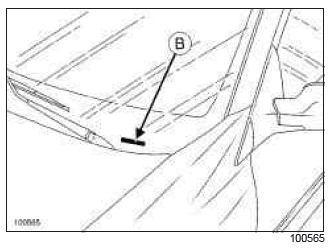 Plate (A):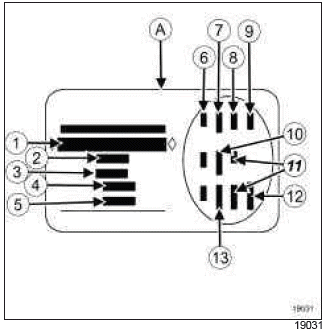 Vehicle type mine and type number; this information also appears on marking (B)
MGVW (Maximum Gross Vehicle Weight)
GTW (Gross train weight, vehicle under load with trailer)
Maximum permissible front axle load
Maximum permissible rear axle load
Vehicle technical specifications
Paintwork reference number
Equipment level
Vehicle type
Upholstery code
Additional equipment details
Fabrication number
Interior trim code
II - COLD-MARKING OF THE BODY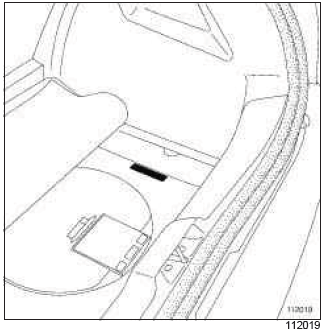 Note: If the complete body is being replaced, it must be marked in compliance with the current regulations.
Vehicle panel gaps: Adjustment value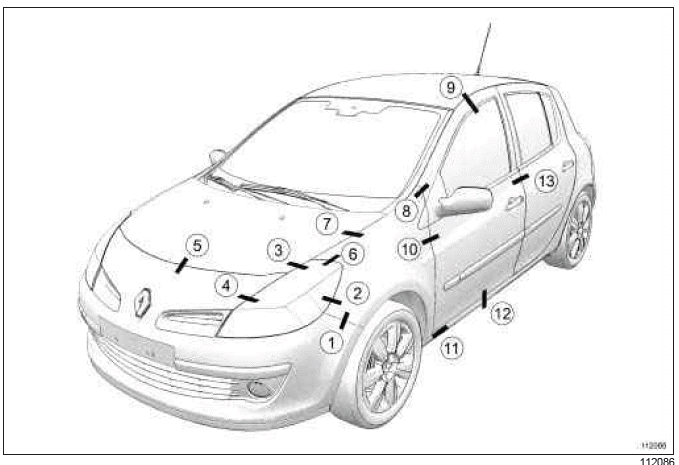 WARNING
The clearance values are given for information purposes.
Certain rules have to be followed when clearances are adjusted:
maintain symmetry in relation to opposite side,
ensure the flush fitting is correct,
check correct operation of the opening, and water-and airtightness.
All values are given in millimetres.
Section 1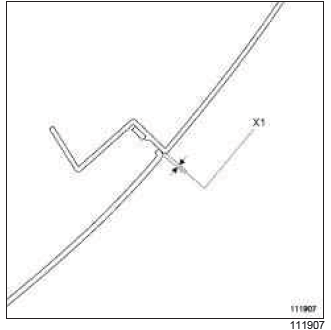 (X1) = 0.75 mm +- 0.75
Section 2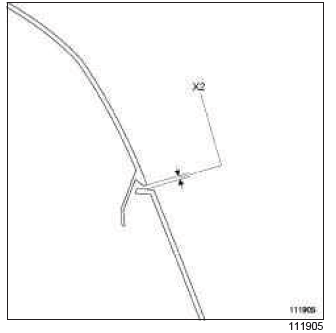 (X2) = 2 mm +- 1
Section 3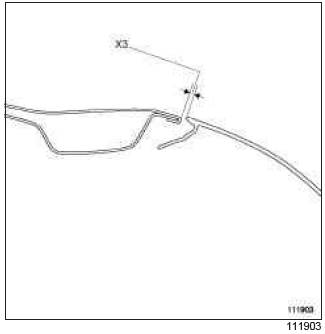 (X3) = 3.5 mm +- 1.5
Section 4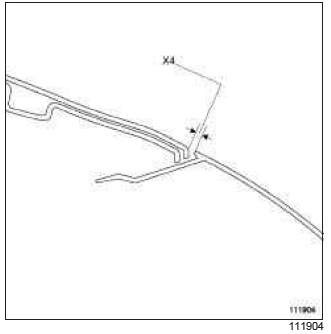 (X4) = 3.4 mm +- 1.5
Section 5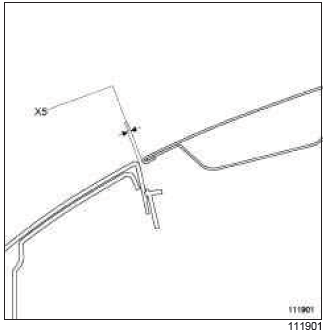 (X5) = 3.5 mm +- 1.5
Section 6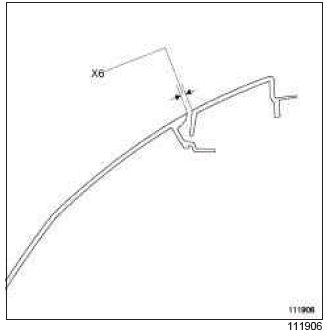 (X6) = 2 mm +- 1
Section 7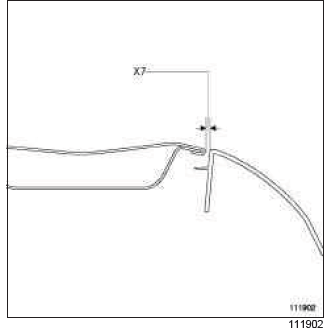 (X7) = 3.5 mm +- 1.2
Section 8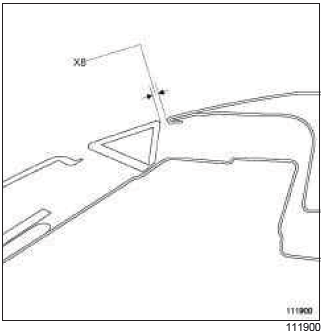 (X8) = 4 mm +- 1
Section 9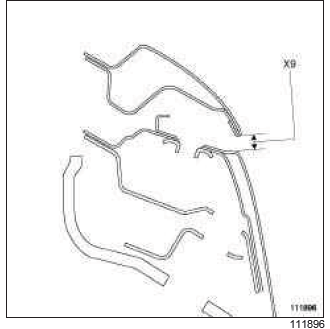 (X9) = 6mm +- 1
Section 10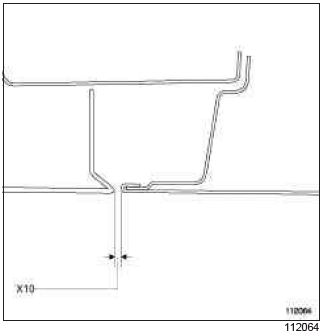 (X10) = 4 mm +- 1
Section 11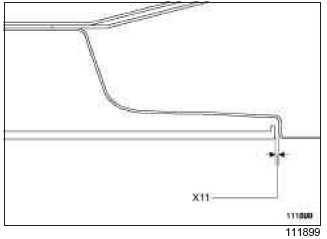 (X11) = 4.2 mm +- 1.5
Section 12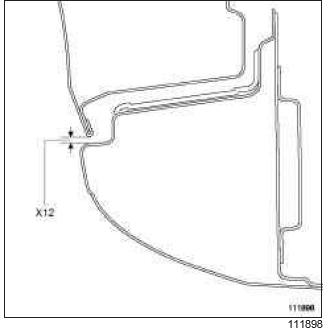 (X12) = 3mm +- 1
Section 13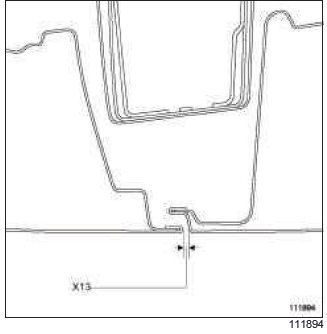 (X13) = 4.5 mm +- 1.5
B85 or C85 or S85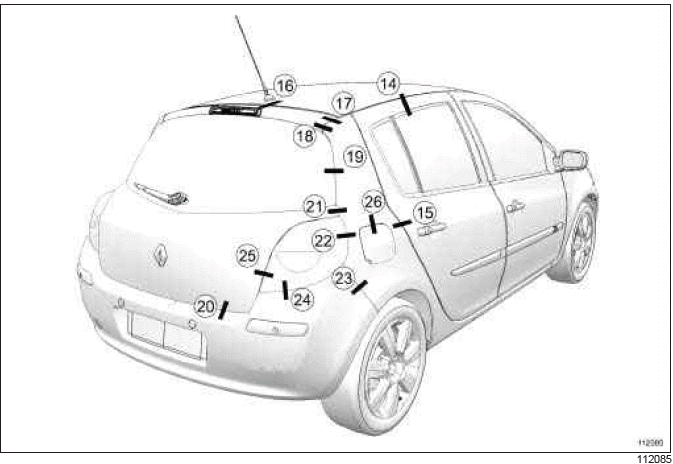 B85
Section 14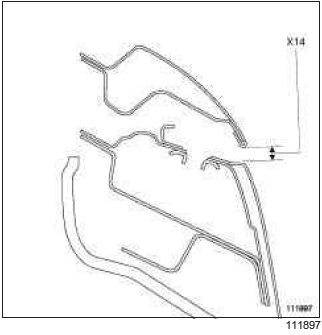 (X14) = 6 mm +- 2
Section 15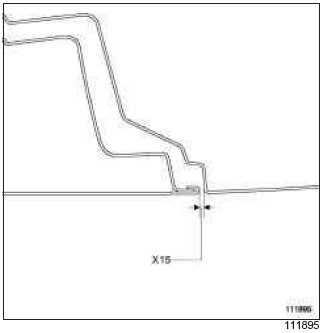 (X15) = 4 mm +- 1
B85 or C85 or S85
Section 16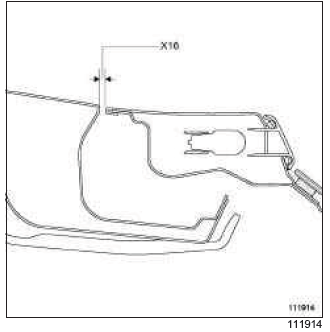 (X16) = 5 mm +- 1
Section 17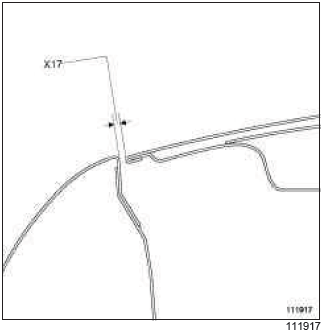 (X17) = 4.3 mm +- 1.5
Section 18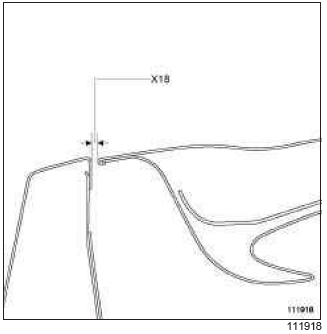 (X18) = 4 mm +- 1.5
Section 19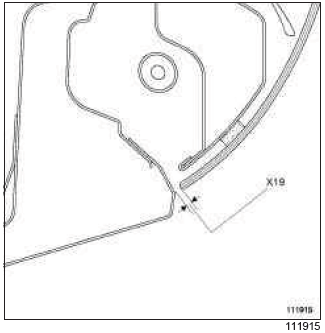 (X19) = 4 mm +- 2
Section 20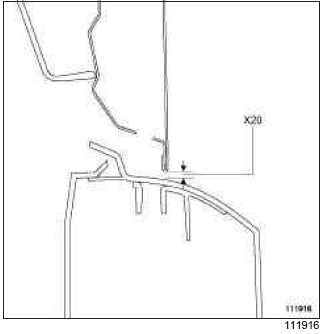 (X20) = 5 mm +- 2
Section 21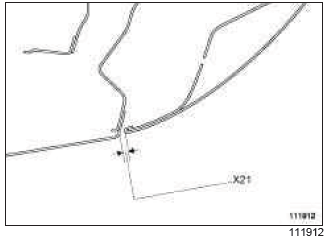 (X21) = 4 mm +- 2
Section 22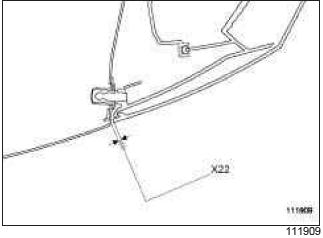 (X22) = 1.5 mm +- 1
Section 23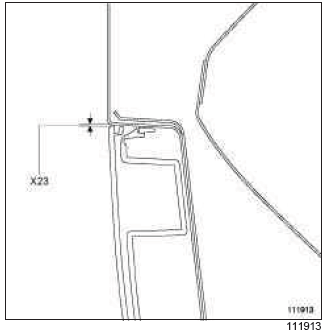 (X23) = 0.75 mm +- 0.75
Section 24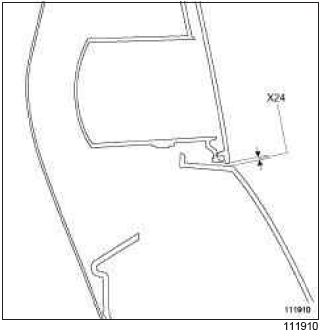 (X24) = 1.5 mm +- 1
Section 25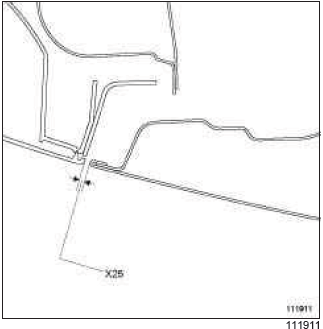 (X25) = 4 mm +- 2
Section 26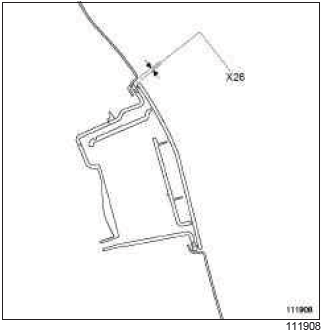 (X26) = 2.5 mm +- 1
C85 or S85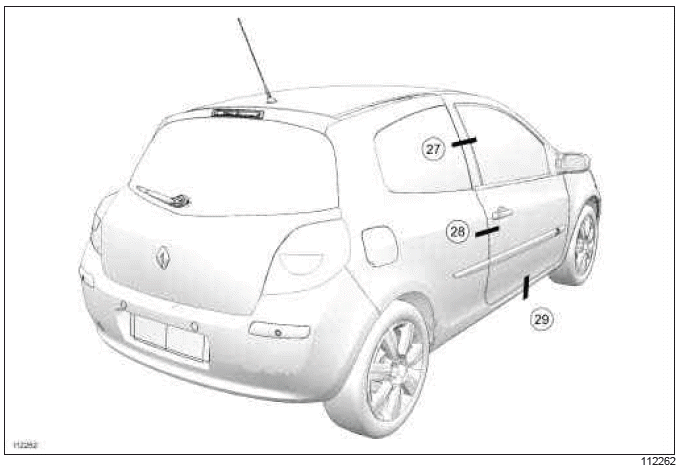 Section 27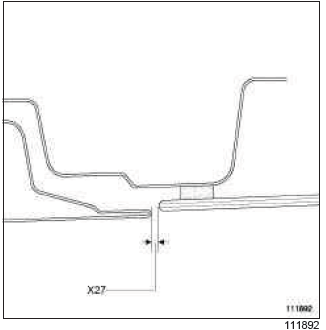 (X27) = 4 mm +- 1.5
Section 28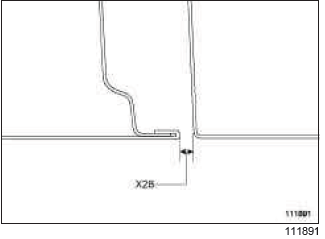 (X28) = 4 mm +- 1.3
Section 29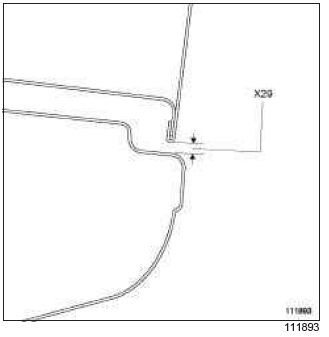 (X29) = 4.5 mm
K85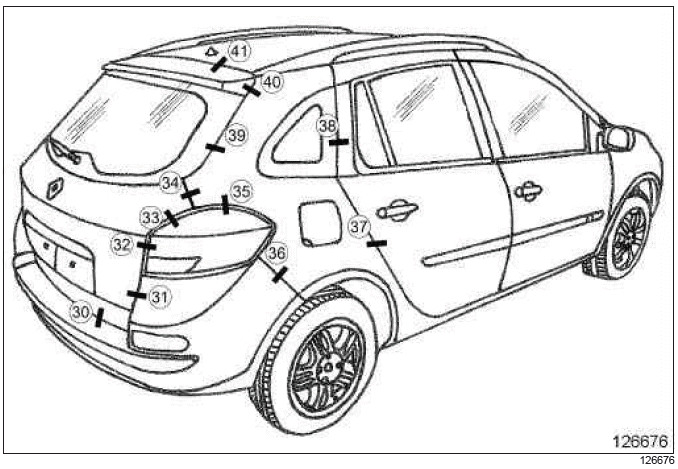 Section 30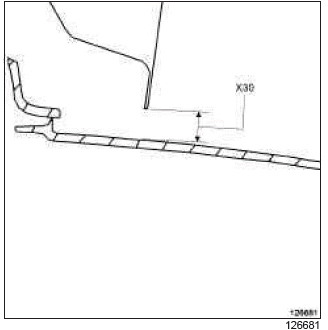 (30) = 6 mm +- 2.5
Section 31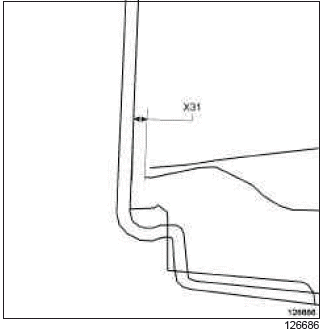 (31) = 4 mm +- 2
Section 32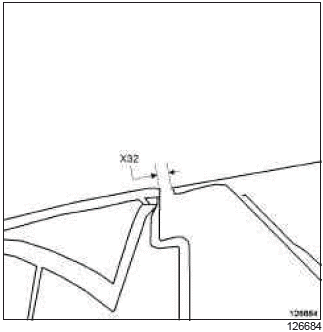 (32) = 4 mm +- 2
Section 33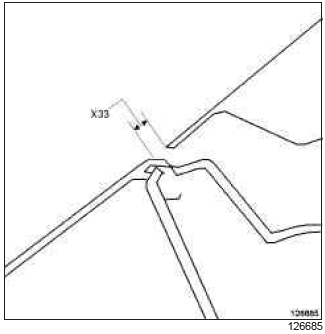 (33) = 4 mm +- 2
Section 34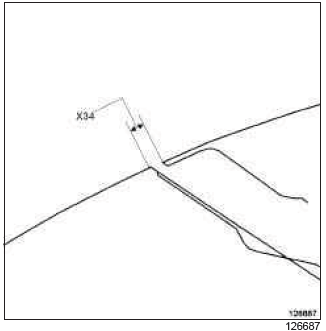 (34) = 4.3 mm +- 2
Section 35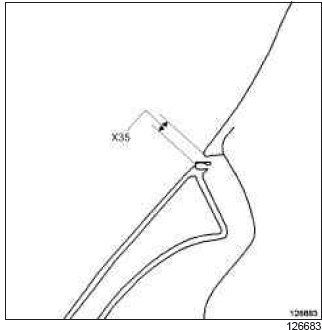 (35) = 1.5 mm +- 1
Section 36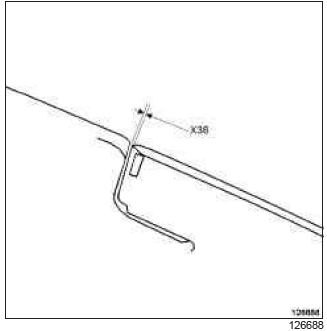 (36) = 0.5 mm +- 1
Section 37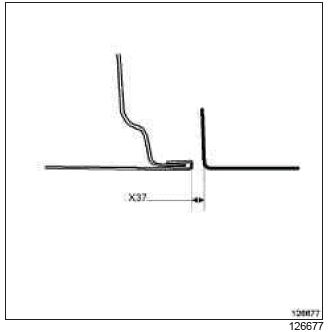 (37) = 4 mm +- 1.5
Section 38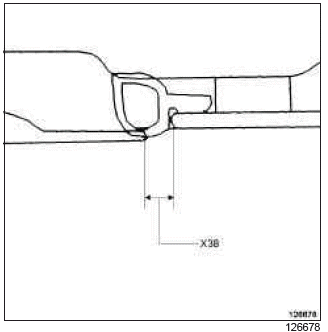 (38) = 4 mm +- 2.3
Section 39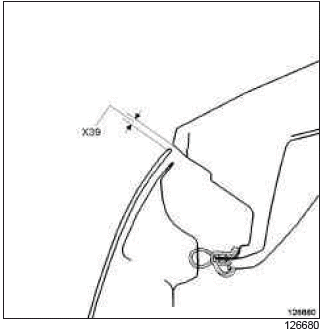 (39) = 4 mm +- 2
Section 40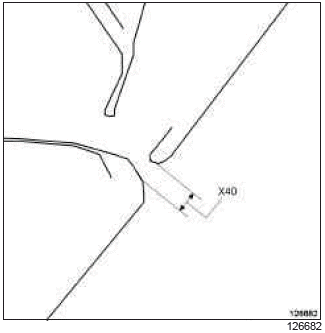 (40) = 4.3 mm +- 1.5
Section 41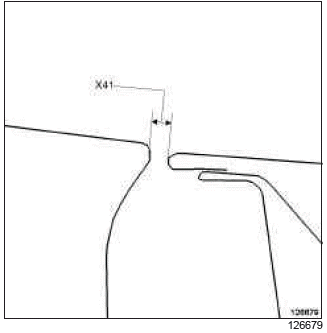 (41) = 5.5 mm +- 1
Mechanical Introduction
Vehicle: Precautions for the repair
GENERAL INFORMATION
All information contained in these manuals is intended exclusively for automotive industry professionals.
The documentation is intended to cover all vehicles in the RENAULT range throughout the world, but may not cover equipment designed for use in specific countries.
The procedures and fault finding procedures recommended and described in this manual have been designed by automotive industry repair professionals.
1 - General recommendations
Observe basic principles of vehicle repair.
The quality of repair depends first and foremost on the care exercised by the person in carrying it out.
To ensure good repair:
protect the sensitive areas of the vehicle (seats, steering wheel, wings, etc.),
unless otherwise indicated, all repairs must be done with the ignition off,
when welding on the vehicle, it is advisable to remove or disconnect components near the repair area that could be affected by the heat,
use recommended professional products and original parts,
observe the tightening torques,
replace roll pins, self-locking or bonded nuts or bolts every time they are removed,
take care with electrical and electronic components which cannot withstand excess voltage and improper handling; replace any electrical and electronic components which have experienced a voltage drop,
make sure that the connectors are correctly clipped,
do not pull on the wiring,
check for the sealing plugs on the connectors,
do not splash any liquid, regardless of its type (oil, cleaner, etc.), on the electric and electronic components (computers, sensors, etc.)
do not just replace parts one after the other, carry out detailed fault finding beforehand,
carry out a final check before returning the vehicle to the customer (set the clock, check the alarm operation, check the lights and indicators etc.),
clean and degrease the sections to be bonded (threads, stub axle splines) to ensure proper adherence,
protect the accessories and timing belts, the electrical accessories (starter, blanking cover, electric power assisted steering pump) and the mating face to prevent diesel fuel spilling onto the clutch friction plate.
The design quality of our vehicles demands that nothing is left to chance in making a good repair, and it is essential to refit parts or components exactly as they were originally (for instance: heat shields, wiring routing, pipe routing, particularly in the area of the exhaust pipe).
Do not blow away asbestos particles or dust (brakes, clutch, etc.), vacuum them up or clean the component with a cleaning agent (such as a brake cleaning product).
Use professional products and apply them with care, for example do not apply too much sealing paste to the sealing surface.
Exhaust gases (petrol and diesel) are pollutants. Operate engines with care and always use exhaust gas extractors.
Ensure that there is no risk of a short circuit occurring when the electrical connections are reconnected (e.g. starter, alternator, etc.). Some points need greasing, others do not, therefore particular attention should be paid during refitting operations to ensure that they work properly under all conditions.
2 - Special tooling - ease of use
The repair procedures have been designed using special tools; they must therefore be carried out using these tools to ensure a high degree of working safety and quality of repair.
The equipment we have approved has undergone careful research and testing, and must be used and maintained with care.
3 - Reliability - updating
New repair procedures are constantly being developed in the interests of repair quality, either with new products (emission control, injection, electronics, etc.), or in fault finding. Be sure to consult the Workshop Repair Manuals or Technical Notes or fault finding summaries before any servicing operation.
Since vehicle specifications are subject to change during their commercial life, it is essential to check whether there are any updated Technical Notes when seeking information.
4 - Safety
Operations on certain equipment and certain parts (for instance: spring-shock absorber assembly, automatic transmission, brake system, ABS, airbag, common rail diesel injection, LPG, etc.) require particular attention to be paid to safety, cleanliness and care.
The safety symbol used in this manual indicates that special attention must be paid to the procedure or the tightening torque values.
Working safely:
use suitable tools which are in good condition (use of " multi-purpose " tools, such as adjustable pliers, etc., should be avoided wherever possible),
use supports and adopt a correct posture when performing heavy work or raising loads,
make sure that the procedure used is not dangerous,
do not wear any jewellery or other small objects during an operation,
use personal protection (gloves, safety glasses, work shoes, masks, skin barrier creams, etc.),
always follow the safety instructions associated with the operation to be performed,
do not smoke when working on vehicles,
use smoke extractors (welding, exhaust gases, etc.),
do not use harmful products in unventilated rooms,
do not overstrain yourself or attempt inappropriate work operations,
use axle stands when working under a vehicle raised on a jack,
do not ingest any chemicals (brake fluid, coolant, etc.),
do not open the cooling circuit when it is hot and pressurised,
take care with components that are liable to start up suddenly (engine cooling fan, etc.).
Respecting the environment:
do not allow waste refrigerants to escape into the atmosphere,
do not dispose of waste vehicle fluids (oil, brake fluid, etc.) in drains,
do not burn discarded products (tyres, etc.).
5 - Conclusion
The procedures contained in this document merit your attention. Please read them carefully in order to reduce the risk of injury, and avoid using incorrect procedures that could damage the vehicle or make it dangerous in use.
Following the recommended procedures will help you to provide a quality of service which will ensure the vehicles achieve the highest levels of performance and reliability.
Maintenance and repair operations must be carried out under the proper conditions to ensure that our vehicles run safely and reliably.
Tightening torques: General information
I - TABLE OF STANDARD TORQUES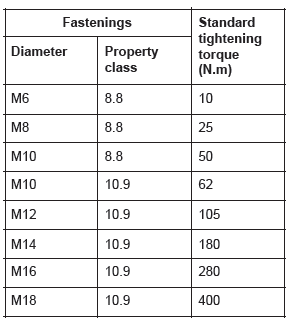 Special notes on electrical earths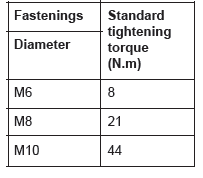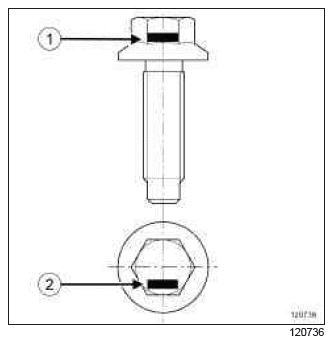 The property class is indicated on the bolt (1) or (2).
II - FUNCTION OF A BOLTED ASSEMBLY
The bolting system connects parts of an assembly to prevent their separation or sliding when submitted to exterior forces.
Exterior forces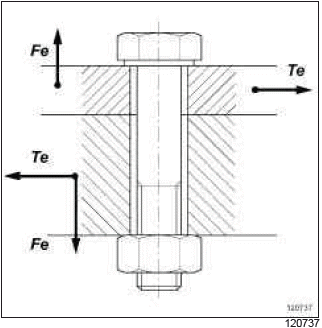 The assembly is submitted to forces that are:
static and / or dynamic,
simple (e.g. simple traction),
multiple (traction + flexion + torsion).
Creating tension (or preload) F0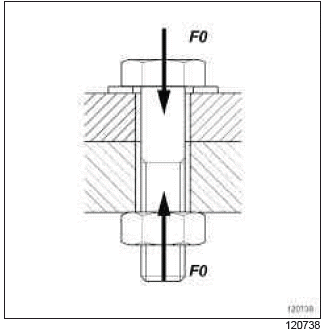 The assembly is held together by the tension created in the bolt when it is tightened.
A reliable assembly is only possible if the correct tension is used:
insufficient tension: risk of loosening,
too much tension: risk of deformation of the parts to be assembled, or shearing of the bolt.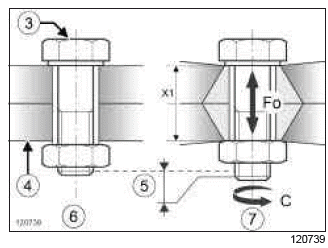 Bolt
Assembled components
Extension of the bolt
Non-tightened assembly
Tightened assembly
(X1) compression of the assembly
(Fo) tension
(C) tightening torque
Customer complaints resulting from incorrect tightening may be, following assembly, a safety issue (fire, loss of control of the vehicle etc.), an immobilising fault or a noise.
III - TIGHTENING PROCEDURES
The two controlled tightening procedures adapted to automotive repairs because of their low cost and simple operation are torque tightening and angle tightening (also called torque and angle).
1 - Torque tightening
This is the most commonly used procedure. Is consists of tightening until a given resisting torque is reached, known as tightening torque.
The tightening torque is distributed in a large part as friction torque (under the head and in the thread) and in a small part as useful torque (to create the tension).
This practise spreads the tension significantly due to the variation in the friction coefficients from one assembly to another and the uncertainty of the tightening procedures and methods.
2 - Angle tightening
The principle consists of putting the parts of the assembly in contact using a mating torque (approximately 25 to 30% of the final torque) then to tighten to a determined angle.
This method, which is not dependent on the friction of the tightened assembly, gives more precise results than torque tightening.
IV - OBSERVING THE TIGHTENING TORQUES AND ANGLES
Bolted assemblies whose tightening torques and angles are explicitly specified in the removal / refitting procedures must be observed using the appropriate tools (torque wrench, angle measuring disc). Failure to observe this can lead to safety risks, immobilising faults or unwanted noises.
For other bolted assemblies, non-measured tightening (using standard spanners) is acceptable. Nevertheless, the corresponding tightening torque is indicated in the table of standard tightening torques.
V - RECOMMENDED TIGHTENING TOOLS
For measured tightening, the repairer must have available torque wrenches to tighten from 4 to 400 N.m as well as an angle measuring disc.
The torque wrenches used may be click type or electronic.
For example:
1 torque wrench 4 - 40 N.m,
1 torque wrench 20 - 100 N.m,
1 torque wrench 80 - 400 N.m,
1 angle measurement disc.
The torque wrenches used must comply with the ISO 6789 standard. They must be calibrated regularly following the supplier's recommendations using the appropriate procedures.
VI - PRECAUTIONS WHEN USING A CLICK TYPE TORQUE WRENCH
A click type torque wrench is a manual tightening tool.
The trigger mechanism causes a break or disengagement of the wrench past a force threshold.
This threshold depends on the setting of the wrench but also depends on the way the wrench is handled.
When used following best practises, the accuracy of the tightness when using a click type torque wrench is +- 15%.
The instructions to be observed are: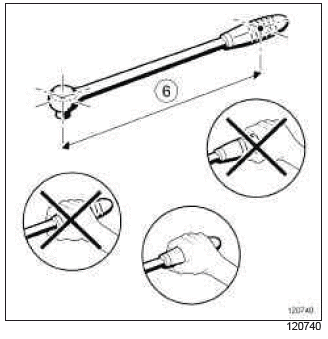 lever arm
Place the hand in the centre of the handle. An incorrectly positioned hand on the handle will alter the trigger threshold.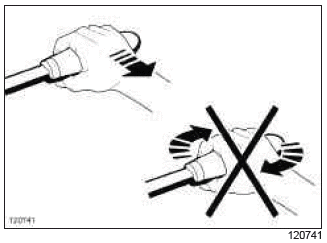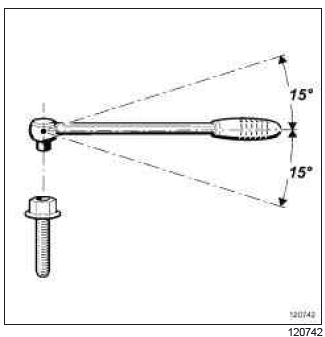 Apply the tightening effort perpendicular to the mounting observing a tolerance of +- 15
READ NEXT:
K9K REMOVAL I - REMOVAL PREPARATION OPERATION Position the vehicle on a two-post lift (see Vehicle: Towing and lifting) (MR 392, 02A, Lifting equipment). Disconnect the battery (see Battery: Remo
SEE MORE:
This function assists the driver when starting on hills. It prevents the vehicle from rolling backwards, depending on the slope, by automatically applying the brakes when the driver lifts his/her foot off the brake pedal to depress the accelerator pedal. System operation It only operates whe
K4J or K4M, and 780 or 800 or 801 Oil vapour rebreathing duct Calibrated port Oil vapour recovery plate located on the rocker cover Oil vapour rebreathing hole Oil vapour rebreathing circuit: Operating diagram K4J, and 780 - K4M, and 800 or 801 A: under low loads, the oil vapours are rebr