Renault Clio: Air vents conditioning and heating system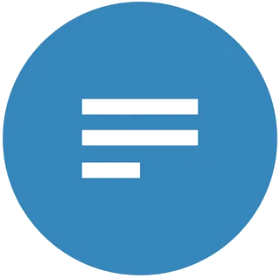 Renault Clio IV (2014-2019) Owners Manual
/
Your comfort
/ Air vents conditioning and heating system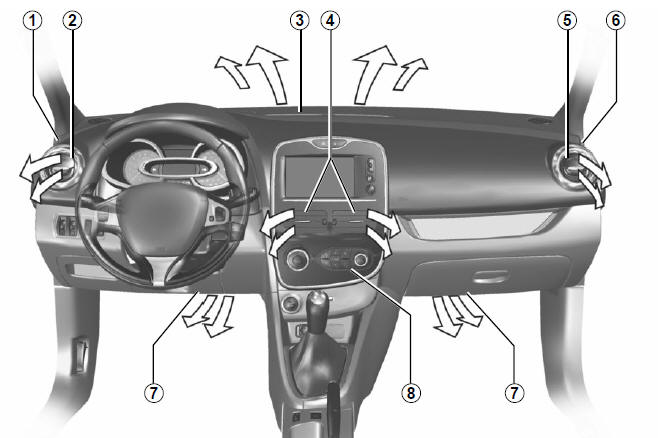 left-hand side window demister vent.
left-hand side air vent.
windscreen demisting vents.
centre air vents.
right-hand side air vent.
right-hand side window demister outlet.
passenger footwell heater outlets.
control panel.
Centre air vents.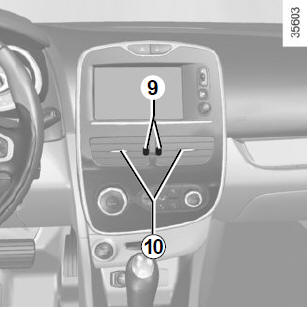 Air flow
Move the control knob 9 (beyond the resistance point).
Upwards: opened to maximum.
Down: closed.
Direction
Move cursors 10 to the required position.
Side air vents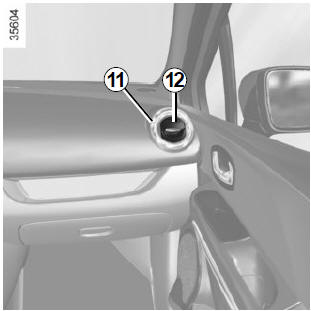 Air flow
To open air vent 11, press on the air vent (point 12) until it is open as far as required.
Direction
To direct the air flow, swivel side air vent 11.
To remove bad odours from your vehicles, only use the systems designed for this purpose. Consult an approved Dealer.
Do not add anything to the vehicle's ventilation circuit (for example, to remove bad odours).

There is a risk of damage or of fire.
READ NEXT:
The controls Adjusting the air temperature. Adjusting the ventilation speed. Air conditioning. Distribution of air in the passenger compartment. De-icing/demisting of the rear screen
The controls Automatic mode. Air temperature adjuster. "Clear View" function. Passenger compartment air distribution adjustment. Air conditioning control. Adjusting the ventila
Advice on use In some situations, (air conditioning off, air recirculation activated, ventilation speed at zero or low, etc.) you may notice that condensation starts to form on the windows and wi
SEE MORE:
AIR CONDITIONING or CLIMATE CONTROL Note: Before removal, use DIALOGYS to check how the condenser is fitted and arranged. There are 2 possibilities: the condenser and cooling radiator cannot be separated, the condenser and cooling radiator can be separated. IMPORTANT To avoid all risk of damag
REMOVAL I - REMOVAL PREPARATION OPERATION Position the vehicle on a two-post lift (see Vehicle: Towing and lifting) (MR 392, 02A, Lifting equipment). Remove: the engine cover, the engine undertray, the battery (see Battery: Removal - Refitting) (MR 392, 80A, Battery), the battery tray
© 2016-2023 Copyright Renault Clio Owners Club