Renault Clio: Engine oil level: general information
It is normal for an engine to use oil for lubrication and cooling of moving parts and it is normal to top up the level between oil changes.
However, contact your approved Dealer if more than 0.5 litres is being consumed every 600 miles (1,000 km) after the running in period.
Oil change frequency: check the oil level from time to time and certainly before any long journey to avoid the risk of damaging your engine.
In order to prevent splashback, it is recommended that a funnel be used when topping up/filling with oil.
Before performing any action in the engine compartment, the ignition must be switched off by pressing the engine stop button (please see the information on "Starting, stopping the engine" in Section 2).
Reading the oil level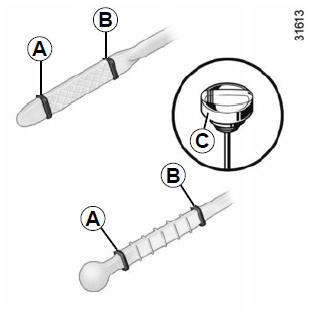 The oil level should be read with the vehicle on level ground, after the engine has been switched off for some time.
The dipstick must be used to read the exact oil level and make sure that the maximum level has not been exceeded (risk of engine damage).
Refer to the following pages.
The instrument panel display only alerts the driver when the oil level is at its minimum.
remove the dipstick and wipe with a clean, lint-free cloth;
push the dipstick in as far as it will go (for vehicles equipped with a captype dipstick C, screw the cap in as far as it will go);
take out the dipstick again;
read the level: it should never fall below minimum mark A or exceed maximum mark B.
Once the operation has been completed, ensure that the dipstick is pushed in as far as it will go or that the "cap-type dipstick" is completely screwed in.
Exceeding the maximum engine oil level Under no circumstances must the maximum fill level B be exceeded: risk of damage to the engine and catalytic converter.

If the oil level exceeds the maximum level, do not start your vehicle and contact an approved Dealer.
READ NEXT:
Topping up/filling The vehicle must be parked on level ground and the engine should be cold (for instance, before the engine is started up for the first time in the day). Before perfor
Refer to the Maintenance Service Booklet for your vehicle. Filling: take care when topping up the oil that no oil drips onto engine components - risk of fire. Remember to refit th
SEE MORE:
The presence and location of this equipment depends on the vehicle version. Multimedia touchscreen; Multimedia sockets; Steering column control; Voice commands; Microphone. Refer to the equipment instructions for information on how to operate this equipment.
REMOVAL I - REMOVAL PREPARATION OPERATION Position the vehicle on a two-post lift (see Vehicle: Towing and lifting) (MR 392, 02A, Lifting equipment). Disconnect the battery (see Battery: Removal - Refitting) (MR 392, 80A, Battery). Remove: the engine cover, the air inlet duct, the front
© 2016-2021 Copyright www.rclio.com