Renault Clio: Access to towing points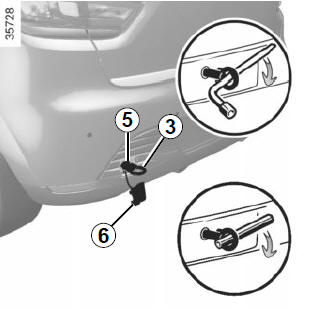 Unclip cover 4 or 6 by sliding a flat tool (or the key integrated in the RENAULT card) under the cover.
Tighten towing hitch 3 fully: as much as possible by hand at first, then finish tightening it using the wheelbrace or, depending on the vehicle, the lever.
Only use the towing eye 3 and the wheelbrace located under the luggage compartment carpet in the tool kit (please refer to the information under "Tools" in Section 5).
Do not leave the tools unsecured inside the vehicle as they may come loose under braking.
READ NEXT:
The following advice will enable you to carry out quick, temporary repairs. For safety reasons you should always contact an approved Dealer as soon as possible. Using the RENAULT card
The information shown on the vehicle identification plate should be quoted on all correspondence or orders. The presence and location of the information depends on the vehicle. Vehic
SEE MORE:
REMOVAL I - REMOVAL PREPARATION OPERATION Disconnect the battery (see Battery: Removal - Refitting). Remove: the mounting clips (1) from the lower trim of the driver's side dashboard, the lower trim (2) of the driver's side dashboard. Remove: the bolt-cover protective strip, th
IMPORTANT Wear protective gloves during the operation. WARNING Never rotate the engine anti-clockwise (timing end). WARNING Do not run the engine without the accessories belt, to avoid breaking the crankshaft accessories pulley. PARTS AND CONSUMABLES FOR THE REPAIR WORK Parts always to be replace
© 2016-2023 Copyright www.rclio.com