Renault Clio: Changing a wheel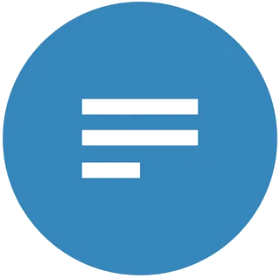 Renault Clio IV (2014-2019) Owners Manual
/
Practical advice
/ Changing a wheel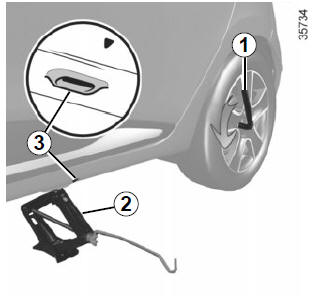 Switch on the hazard warning lights.

Keep the vehicle away from traffic and on a level surface where it will not slip.

Apply the parking brake and engage a gear (first or reverse, or P for automatic transmissions).

Ask all the passengers to leave the vehicle and keep them away from traffic.
Vehicles equipped with a jack and wheelbrace
If necessary, remove the wheel trim.
Use the wheelbrace 1 to slacken off the wheel bolts. Position it so as to be able to push from above.
Crank up jack 2 by hand to position the jack head against the jacking point closest to the relevant wheel and marked by an arrow 3.
If the vehicle is parked on the hard shoulder, you must warn other road users of your vehicle's presence with a warning triangle or with other devices as per the legislation applying to the country you are in.
Continue to crank the jack so that the baseplate is correctly positioned (it should be underneath the vehicle and aligned with the jack head).
Turn it a few times to lift the wheel off the ground.
If the vehicle is not equipped with a jack or wheelbrace, you can obtain these from your approved dealer.
To prevent any risk of injury or damage to the vehicle, only crank the jack until the wheel you are replacing is a maximum of 3 centimetres off the ground.
Undo the bolts and take off the wheel.
Fit the emergency spare wheel on the central hub and turn it to locate the mounting holes in the wheel and the hub.
Tighten the bolts, checking that the wheel is correctly positioned on its hub.
Lower the jack.
With the wheel on the ground, tighten the bolts fully and have the tightness of the bolts checked (tightening torque: 105 N.m) and the emergency spare tyre pressure checked as soon as possible.
If you have a puncture, replace the wheel as soon as possible.

A tyre which has been punctured should always be inspected (and repaired, where possible) by a specialist
Do not leave the tools unsecured inside the vehicle as they may come loose under braking. After use, check that all the tools are correctly clipped into the tool kit, then position it correctly in its housing: risk of injury.

If wheel bolts are supplied in the tool kit, only use these bolts for the emergency spare wheel: refer to the label affixed to the emergency spare wheel.

The jack is designed for wheel changing purposes only. Under no circumstances should it be used for carrying out repairs underneath the vehicle or to gain access to the underside of the vehicle.
READ NEXT:
Tyre and wheel safety The tyres are the only contact between the vehicle and the road, so it is essential to keep them in good condition. You must comply with the local rules given in the highway
Direction indicator lights Turn the bulb holder 1 a quarter of a turn and take out the bulb. Bulb type: PY24. Once the bulb has been replaced, check that it is properly secured. T
SEE MORE:
EQUIPMENT LEVEL E3 LEISURE or EQUIPMENT LEVEL EA1 or EQUIPMENT LEVEL EA2 or EQUIPMENT LEVEL EA3 or EQUIPMENT LEVEL EA4 or EQUIPMENT LEVEL EA5 or EQUIPMENT LEVEL EAG REMOVAL I - REMOVAL PREPARATION OPERATION Position the vehicle on a two-post lift (see Vehicle: Towing and lifting). Remove: t
REMOVAL I - REMOVAL PREPARATION OPERATION Position the vehicle on a two-post lift (see Vehicle: Towing and lifting) (MR 392, 02A, Lifting equipment). Remove: the battery (see Battery: Removal - Refitting) (MR 392, 80A, Battery), the battery tray (see ) (MR 392, 80A, Battery), the scuttl
© 2016-2023 Copyright Renault Clio Owners Club