Renault Clio: Drive plate: Removal - Refitting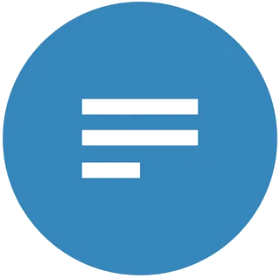 Renault Clio III (2005-2013) Service Manual
/
Transmission
/
Automatic Gearbox
/ Drive plate: Removal - Refitting
K4M, and DP0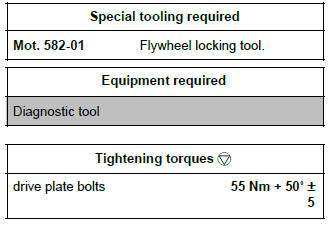 REMOVAL
I - REMOVAL PREPARATION OPERATION
Remove the gearbox (see 23A, Automatic gearbox, Automatic gearbox: Removal - Refitting, 23A-7).
II - OPERATION FOR REMOVAL OF PART CONCERNED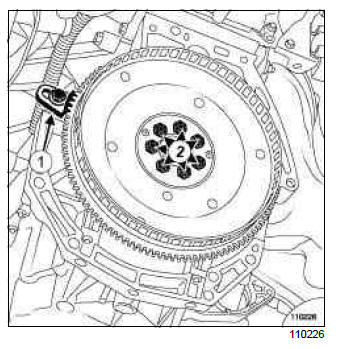 Set up the (Mot. 582-01) (2).
Remove:

the bolts (2),
the drive plate,
tool (Mot. 582-01).
REFITTING
I - REFITTING PREPARATIONS OPERATION
Check that the drive plate is not damaged (run-out tolerance of 0.2 mm on the outer diameter).
II - REFITTING OPERATION FOR PART CONCERNED
Fit the drive plate, ensuring it is correctly positioned in relation to the centring pins.
Apply LOCTITE FRENBLOC to the bolt threads.
Tighten the bolts on the drive plate.
Torque and angle tighten the drive plate bolts (55 Nm + 50
READ NEXT:
DP0 REMOVAL I - REMOVAL PREPARATION OPERATION Shift the selector lever to Neutral. Disconnect the battery (see Battery: Removal - Refitting) (MR 392, 80A, Battery). Remove the battery tray (se
DP0 Do not drain or remove the automatic gearbox in order to remove the speed sensor. The output speed sensor has been deleted and replaced with wheel speed sensors. REMOVAL I - REMOVAL PREPARATION
DP0 REMOVAL I - REMOVAL PREPARATION OPERATION Position the vehicle on the two-post lift (see 02A, Lifting equipment, Vehicle: Towing and lifting). Disconnect the battery (see 80A, Battery, Batter
SEE MORE:
K9K REMOVAL I - REMOVAL PREPARATION OPERATION Position the vehicle on a two-post lift (see Vehicle: Towing and lifting) (MR 392, 02, Lifting equipment). Drain the fuel tank (see 19C, Tank, Fuel tank: Draining, 19C-8). Remove the battery covers. Disconnect the battery (see Battery: Removal - R
Gear lever Vehicles with manual gearbox: refer to the grid on the gear lever knob 1. Vehicles with automatic gearbox: refer to the information on the "Automatic gearbox" in Section 2. Selecting reverse gear The reversing lights will come on as soon as reverse gear is selected wit
© 2016-2023 Copyright Renault Clio Owners Club