Renault Clio: Driving advice, Eco-driving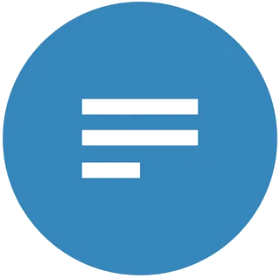 Renault Clio IV (2014-2019) Owners Manual
/
Driving
/
Eco-driving
/ Driving advice, Eco-driving
Behaviour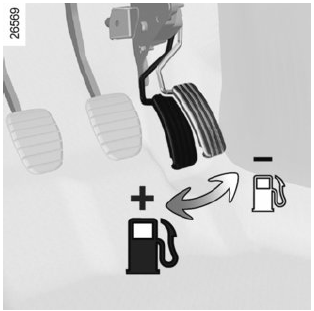 Do not drive through
floods if the water is above the lower edge of the wheel rims.
Obstructions to the driver On the driver's side, only use mats adapted to the vehicle that attach to the preinstalled parts, and regularly check their mounting. Do not place several mats on top of each other.

There is a risk of wedging the pedals
Tyres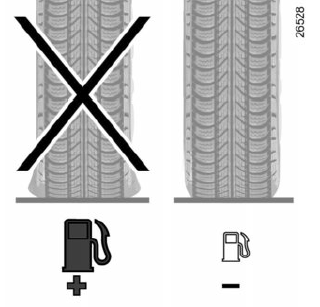 An underinflated tyre increases fuel consumption.
The use of non-recommended tyres can increase fuel consumption.
Advice on use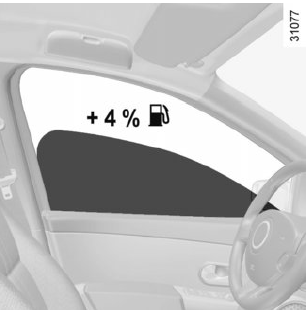 Favour ECO mode.
Electricity is fuel; switch off all the electrical components which are not really needed. However (safety first), keep your lights on when the visibility is bad ("see and be seen").
Use the air vents. Driving with the windows open at 60 mph (100 km/h) will increase fuel consumption by 4%.
Never fill the fuel tank right to the brim to avoid overflow.
In vehicles fitted with air conditioning, it is normal to observe an increase in fuel consumption (especially in urban conditions) when it is used. For vehicles fitted with manual air conditioning, switch off the system when it is not required.

Advice for reducing consumption and therefore helping to preserve the environment: If the vehicle has been parked in the sun, open the doors for a few moments to let the hot air escape before starting the engine.

Do not leave an empty roof rack fitted to the vehicle.
It is better to fit a trailer for bulky objects.
When towing a caravan, fit a wind deflector and adjust it carefully.
Avoid using the car for door-to-door calls (short journeys with long waits in between) because the engine never reaches its normal operating temperature.
READ NEXT:
Your vehicle complies with criteria for recycling and recovering vehicles at the end of their service life which will come into force in 2015. Some parts of your vehicle have therefore been des
Your vehicle has been designed with respect for the environment in mind for its entire service life: during production, use and at the end of its life. This commitment is illustrated by the of
If fitted on the vehicle this system warns the driver of pressure loss in one or several tyres. Operating principle Each wheel (except for the emergency spare wheel) has a sensor in the infla
SEE MORE:
Always position the objects transported so that the largest surface is against: The rear bench seatback for normal loads (example A). The front seatbacks with the rear seatbacks folded down, as is the case for maximum loads (example B). If you have to place objects on the
AIR CONDITIONING or CLIMATE CONTROL IMPORTANT To avoid all risk of damage to the systems, apply the safety and cleanliness instructions and operation recommendations before carrying out any repair: (see 62A, Air conditioning, Air conditioning: Precautions for the repair, 62A-1), (se
© 2016-2023 Copyright Renault Clio Owners Club