Renault Clio: Rear screen wash/wipe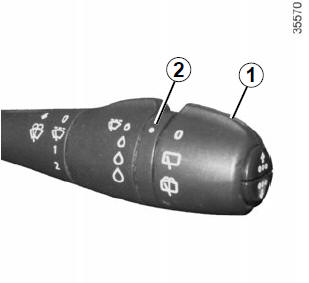 Speed-dependent
timed rear screen wiper
With the ignition on, turn the end of stalk 1 to align mark 2 with the symbol.
Wiping frequency varies with speed.
When working in the engine compartment, ensure that the windscreen wiper stalk is in the park position.

Risk of injury.

Rear screen wash/wipe
With the ignition on, turn the end of stalk 1 to align mark 2 with the symbol.
When the stalk is released, it returns to the rear wipe position.
Special note
If the windscreen wipers are operating or are in automatic mode, the rear screen wiper wipes intermittently when reverse gear is engaged.
Before any action on the windscreen (washing the vehicle, de-icing, cleaning the windscreen, etc.) return stalk 1 to the park position.

Risk of injury or damage.
In freezing or snowy weather, ensure they are not stuck to the windscreen (including the central area located behind the interior rear-view mirror) and the rear screen before starting the wipers (risk of motor overheating).

Check the condition of the wiper blades. You are responsible for their service life:
they must remain clean: clean the blades, windscreen and rear screen regularly with soapy water;
do not use them when the windscreen or rear screen are dry;
free them from the windscreen or rear screen when they have not been used for a long time.
In all cases, replace them as soon as they begin to lose efficiency: approximately once a year.
Before using the rear wiper, check that no object obstructs the travel of the blade.
Do not use the wiper arm to open or close the tailgate.
READ NEXT:
Useful capacity of fuel tank: approx. 45 litres. The engine 0,9 TCe has a fuel tank capacity of 40 litres or 45 litres (depending on the vehicle). To open cover A, place your finger int
Petrol version For the first 600 miles (1,000 km), do not exceed 78 mph (130 km/h) in the highest gear, or 3,000 to 3,500 rpm. You may only expect top performance from your vehicle after approx
SEE MORE:
REMOVAL I - REMOVAL PREPARATION OPERATION Position the vehicle on a two-post lift (see Vehicle: Towing and lifting) (MR 392, 02A, Lifting equipment). IMPORTANT During this operation, secure the vehicle to the lift with a strap to prevent it from becoming unbalanced. Remove the engine cover.
The presence and location of this equipment depends on the vehicle version. Multimedia touchscreen; Multimedia sockets; Steering column control; Voice commands; Microphone. Refer to the equipment instructions for information on how to operate this equipment.
© 2016-2021 Copyright www.rclio.com