Renault Clio: Rigid brake pipe: Repair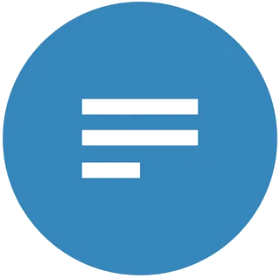 Renault Clio III (2005-2013) Service Manual
/
Chassis
/
General Information
/ Rigid brake pipe: Repair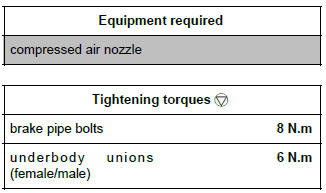 This procedure applies to copper pipes diameter 4.7 mm.
Note:
This procedure does not apply to:
hybrid pipes (pipe + hose),
pipes with diameters 6 mm and 8 mm.
REPAIR
I - PIPE PREPARATION OPERATION
WARNING
To avoid causing a breakdown in hydraulic brake circuit, do not squash or bend the rigid pipe when cutting.
Cut the pipe to the recommended length using a tube cutter (see Garage equipment catalogue).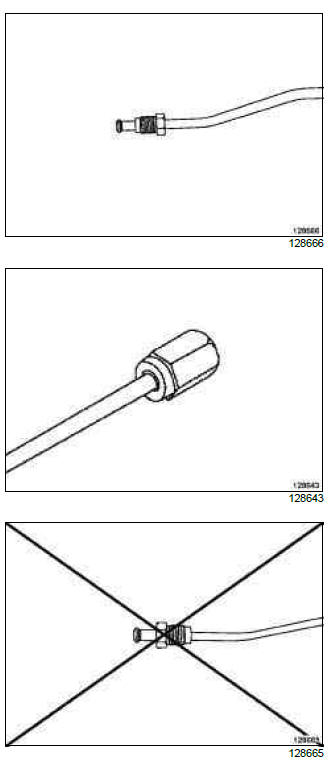 Put the nuts or bolts on the pipe before forming the rivets.
II - MAKING THE RIVETS
Note: To make the rivets, fit the rivet press in a vice.
Fit the pipe in the rivet press (see Garage Equipment Catalogue).
Adjust the length of the pipe to be shaped.
Torque tighten the press end piece(40 N.m).
III - CHECKING THE RIVETS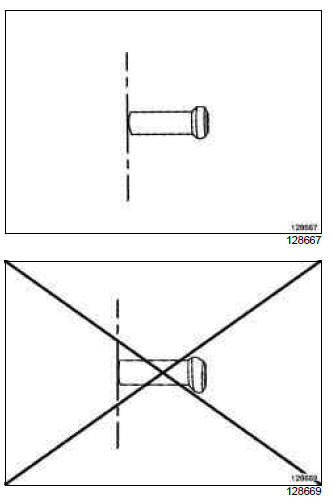 Visually inspect:

the uniformity of the rivets' diameter,
the rivet centring in relation to the pipe shaft.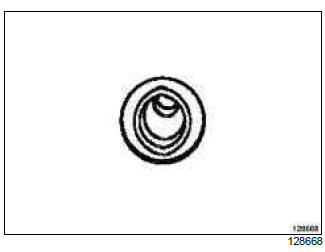 Visually check that the internal diameter of the pipe is not oval-shaped.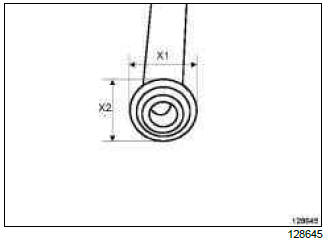 IV - PREPARATION OF THE PIPE BEFORE BENDING
Note: Impurities may spread inside the pipe while the rivets are being made.
Blow inside the pipe in both directions using a compressed air nozzle.
Put plugs on the bolts or nuts at the ends of the pipe.
Put the original pipe on a flat base plate that is the length of the pipe.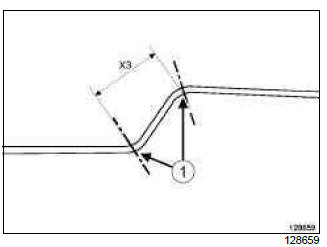 Measure the dimensions (X3) (in mm) curve after curve, between each curve radius " centre " (1) of the old pipe.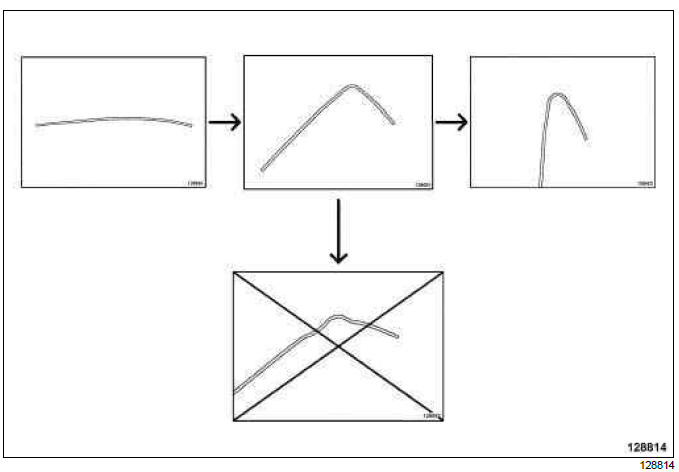 WARNING
To avoid weakening the pipe, either bend once or bend progressively by increasing the bend (that is, by continually decreasing the curve radius).
Do not install a rigid pipe on a vehicle that may have been bended and then unbended alternatively to reach the correct curve radius.
Note: During the bending operation, the required angle should be passed slightly in order to compensate for material elasticity.
Shape the pipe using a bender, curve after curve, while respecting the original shape of the pipe.
V - CHECKING BENDING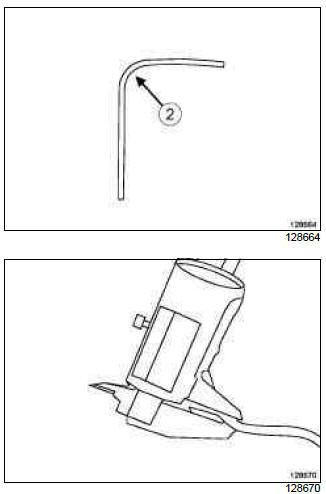 Check the out-of-roundness of the outer diameter at the centre of the curve radius (2) using a sliding calliper (the out-of-roundness of the outer diameter is correct if it is less than 10% flattening):

nominal diameter of the pipe: 4.75 mm,
minimum diameter after bending: 4.30 mm.
VI - REFITTING THE PIPE
Note:
When refitting the rigid brake pipe:
respect the original routing as much as possible,
adjust the pipe routing by hand when fitting inside the clips.
WARNING
Contact points between the rigid brake pipe and the surrounding components could cause damage to the pipe. In order to avoid these contacts, adjust the pipe routing by hand.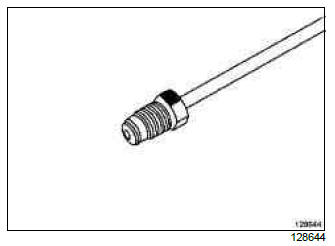 Torque tighten the brake pipe bolts (8 N.m).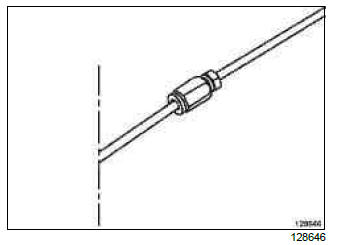 Torque tighten the underbody unions (female/ male) (6 N.m).
READ NEXT:
EQUIPMENT LEVEL E3 LEISURE or EQUIPMENT LEVEL EA1 or EQUIPMENT LEVEL EA2 or EQUIPMENT LEVEL EA3 or EQUIPMENT LEVEL EA4 or EQUIPMENT LEVEL EA5 or EQUIPMENT LEVEL EAG When replacing brake pads, be sur
IMPORTANT Consult the safety and cleanliness advice and operation recommendations before carrying out any repair (see Front axle components: Precautions for the repair). WARNING Prepare for the flo
SEE MORE:
REMOVAL I - REMOVAL PREPARATION OPERATION Position the vehicle on a two-post lift (see Vehicle: Towing and lifting) (MR 392, 02A, Lifting equipment). Remove: the battery (see Battery: Removal - Refitting) (MR 392, 80A, Battery), the air filter unit (see Air filter unit: Removal - Refit
REMOVAL I - REMOVAL PREPARATION OPERATION Position the vehicle on a two-post lift (see Vehicle: Towing and lifting) (02A, Lifting equipment). Remove the front engine cover. K9K, and 772 Discharge the pressure in the fuel supply circuit of the exhaust fuel injector (see 19B, Exhaust, Exhaust
© 2016-2023 Copyright Renault Clio Owners Club