Renault Clio: Battery for remote door locking control: Removal - Refitting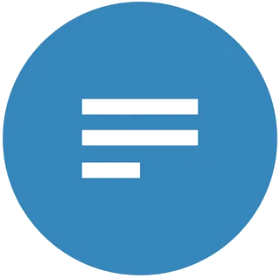 Renault Clio III (2005-2013) Service Manual
/
Electrical Equipment
/
Engine Immobiliser
/ Battery for remote door locking control: Removal - Refitting
REMOVAL
OPERATION FOR REMOVAL OF PART CONCERNED
VEHICLE WITH KEY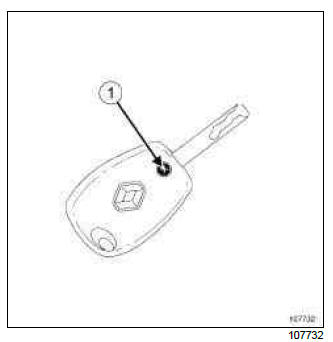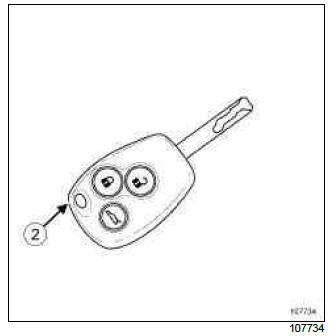 Open the key with a coin (2).
VEHICLE WITH CARD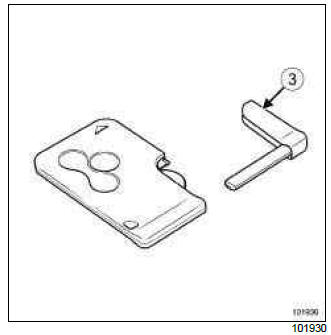 Remove the mechanical insert (3).
REFITTING
I - REFITTING PREPARATION OPERATION
WARNING
To ensure that the remote control operates correctly, take care not to damage the battery contacts.
Only handle the new battery with dry, grease-free hands or wearing clean gloves to avoid any risk of dirt and oxidation on the battery.
II - REFITTING OPERATION FOR PART CONCERNED
VEHICLE WITH KEY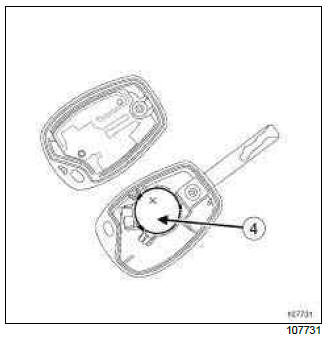 Replace the battery (4) using a flat-blade screwdriver.
VEHICLE WITH CARD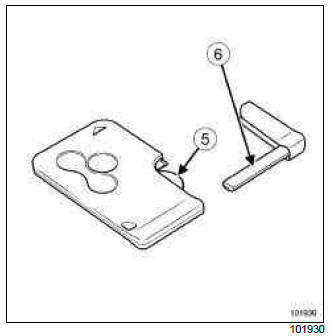 III - FINAL OPERATION.
VEHICLE WITH KEY
Close the key.
Tighten the bolt (1).
VEHICLE WITH CARD
Refit the mechanical insert (6).
READ NEXT:
VEHICLE WITH CARD REMOVAL I - REMOVAL PREPARATION OPERATION Remove the centre console (see Centre console: Removal - Refitting) (MR 393, 57A, Interior equipment). Unclip the trim at (1) and (2
Clock: Before/after repair procedure SETTING THE CLOCK WITHOUT NAVIGATION AID, and RADIO NO. 01 or RADIO NO. 02 or RADIO NO. 03 or RADIO NO. 04 or RADIO NO. 05 or RADIO NO. 06 or RADIO NO. 07 or RADIO
SEE MORE:
D4F or K4J or K4M or K9K or M4R REMOVAL I - REMOVAL PREPARATION OPERATION Position the vehicle on a two-post lift (see Vehicle: Towing and lifting) (MR 392, 02A, Lifting equipment). Cut the exhaust pipe (see 19B, Exhaust, Exhaust: Precautions for the repair, 19B-19) (see ) (MR 392, 19A, Exhau
REMOVAL I - REMOVAL PREPARATION OPERATION Disconnect the battery (see Battery: Removal - Refitting) (MR 392, 80A, Battery). Remove: the air filter box (see 12A, Fuel mixture, Air filter unit: Removal - Refitting, 12A-17), the intake distributor (see 12A, Fuel mixture, Inlet distributor:
© 2016-2023 Copyright Renault Clio Owners Club