Renault Clio: Battery for remote door locking control: Removal - Refitting
REMOVAL
OPERATION FOR REMOVAL OF PART CONCERNED
VEHICLE WITH KEY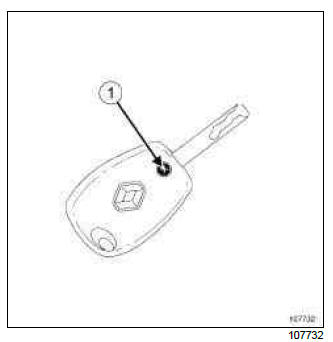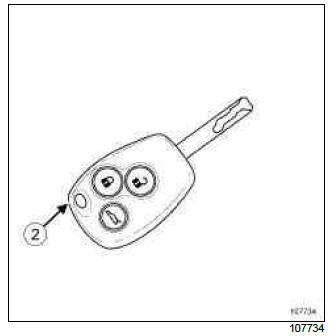 Open the key with a coin (2).
VEHICLE WITH CARD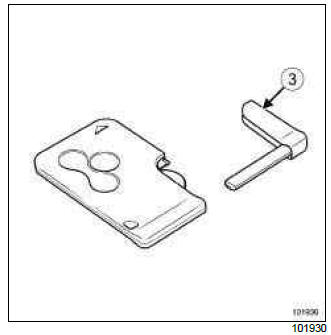 Remove the mechanical insert (3).
REFITTING
I - REFITTING PREPARATION OPERATION
WARNING
To ensure that the remote control operates correctly, take care not to damage the battery contacts.
Only handle the new battery with dry, grease-free hands or wearing clean gloves to avoid any risk of dirt and oxidation on the battery.
II - REFITTING OPERATION FOR PART CONCERNED
VEHICLE WITH KEY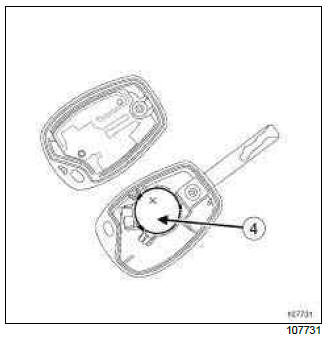 Replace the battery (4) using a flat-blade screwdriver.
VEHICLE WITH CARD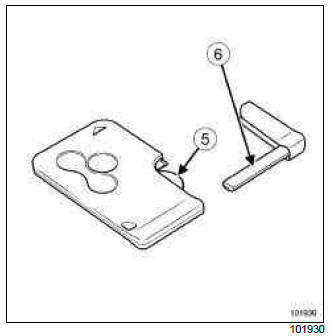 III - FINAL OPERATION.
VEHICLE WITH KEY
Close the key.
Tighten the bolt (1).
VEHICLE WITH CARD
Refit the mechanical insert (6).
READ NEXT:
VEHICLE WITH CARD REMOVAL I - REMOVAL PREPARATION OPERATION Remove the centre console (see Centre console: Removal - Refitting) (MR 393, 57A, Interior equipment). Unclip the trim at (1) and (2
Clock: Before/after repair procedure SETTING THE CLOCK WITHOUT NAVIGATION AID, and RADIO NO. 01 or RADIO NO. 02 or RADIO NO. 03 or RADIO NO. 04 or RADIO NO. 05 or RADIO NO. 06 or RADIO NO. 07 or RADIO
SEE MORE:
Please quote the information on the engine plate or label A in all correspondence or orders. (Location varies depending on engine) Engine type. Engine suffix. Engine number.
DISCHARGE LAMPS, and DOCUMENTATION PHASE 1 IMPORTANT To prevent eye injuries: do not look at a xenon bulb when lit (voltage when lit 20000 V), do not light a bulb which has not been fitted into its headlight. IMPORTANT To prevent burns, wait until the " computers - power unit " assemblies are
© 2016-2022 Copyright www.rclio.com