Renault Clio: Bonnet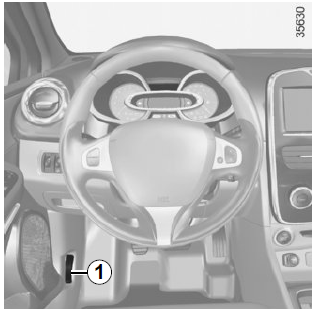 To open the bonnet, pull the handle 1.
Before performing any action in the engine compartment, the ignition must be switched off by pressing the engine stop button (please see the information on "Starting, stopping the engine" in Section 2).
Unlocking the bonnet catch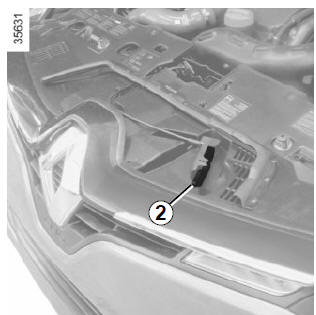 To open, push tab 2 to the left as you open the bonnet.
Opening the bonnet
Lift the bonnet; you will need to guide it as it is held by a strut
Do not press down on the bonnet: there is a risk that the bonnet may accidentally close.
The engine may be hot when carrying out operations in close proximity. In addition, the engine cooling fan can come on at any moment.

Risk of injury.
When working in the engine compartment, ensure that the windscreen wiper stalk is in the park position.

Risk of injury.
Closing the bonnet
Check that nothing has been left in the engine compartment.
To close the bonnet again, hold the bonnet in the middle and lower it to 30 cm above the closed position, then release it. It will latch automatically under its own weight
Ensure that the bonnet is properly locked.

Check that nothing is preventing the catch from locking (gravel, cloth, etc.).
After carrying out any work in the engine compartment, check that nothing has been left behind (cloth, tools, etc.).

These may damage the engine or cause a fire.
In the event of even a slight impact involving the radiator grille or bonnet, have the bonnet lock checked by an approved dealer as soon as possible.
READ NEXT:
It is normal for an engine to use oil for lubrication and cooling of moving parts and it is normal to top up the level between oil changes. However, contact your approved Dealer if more than 0.
Topping up/filling The vehicle must be parked on level ground and the engine should be cold (for instance, before the engine is started up for the first time in the day). Before perfor
Refer to the Maintenance Service Booklet for your vehicle. Filling: take care when topping up the oil that no oil drips onto engine components - risk of fire. Remember to refit th
SEE MORE:
A wheel size larger than 15" cannot be installed under the vehicle. To carry out this operation, the cable must be unwound. If the cable has been wound back up on its own, unwind it again as follows: pull the handle to unwind the cable; press the button located u
EQUIPMENT LEVEL E3 LEISURE or EQUIPMENT LEVEL EA1 or EQUIPMENT LEVEL EA2 or EQUIPMENT LEVEL EA3 or EQUIPMENT LEVEL EA4 or EQUIPMENT LEVEL EA5 or EQUIPMENT LEVEL EAG When replacing brake pads, be sure to replace the pads on the opposite side. REMOVAL I - REMOVAL PREPARATION OPERATION Position the
© 2016-2023 Copyright Renault Clio Owners Club