Renault Clio: Drive plate: Removal - Refitting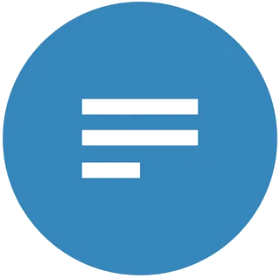 Renault Clio III (2005-2013) Service Manual
/
Engine And Peripherals
/
Engine And Cylinder Block Assembly
/ Drive plate: Removal - Refitting
K4M, and DP0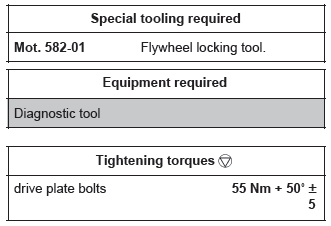 REMOVAL
I - REMOVAL PREPARATION OPERATION
Remove the gearbox (see Automatic gearbox: Removal - Refitting).
II - OPERATION FOR REMOVAL OF PART CONCERNED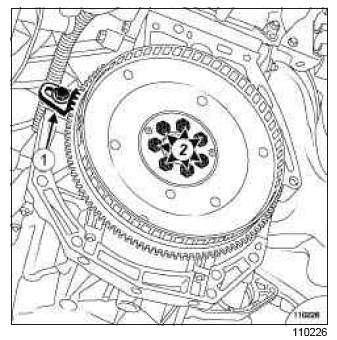 Set up the (Mot. 582-01) (2).
Remove:

the bolts (2),
the drive plate,
tool (Mot. 582-01).
REFITTING
I - REFITTING PREPARATIONS OPERATION
Check that the drive plate is not damaged (run-out tolerance of 0.2 mm on the outer diameter).
II - REFITTING OPERATION FOR PART CONCERNED
Fit the drive plate, ensuring it is correctly positioned in relation to the centring pins.
Apply LOCTITE FRENBLOC to the bolt threads.
Tighten the bolts on the drive plate.
Torque and angle tighten the drive plate bolts (55 Nm + 50
READ NEXT:
K9K Remove the heater plugs (see 13C, Preheating, Heater plugs: Removal - Refitting, 13C-2). Disconnect: the pressure regulation solenoid valve connector (1), the flow control solenoid val
K4J, and STANDARD HEATING - K4M, and STANDARD HEATING REMOVAL I - REMOVAL PREPARATION OPERATION Position the vehicle on a two-post lift (see Vehicle: Towing and lifting) (02A, Lifting equipment).
SEE MORE:
DP0 or JH3 or JR5 or TL4 WARNING A gearbox oil leak at the driveshaft may destroy it. WARNING Always replace seals whenever the driveshaft is removed. WARNING Grease the base of the bearing using BR 2 + grease to prevent the bearing from sticking. Make sure that the O-ring is correctly positioned i
WITHOUT SPORT SEATS, and DOCUMENTATION PHASE 1 IMPORTANT Before carrying out any work on a safety or proximity system component, lock the airbag computer using the Diagnostic tool. When this function is activated, all the trigger lines are disabled and the airbag instrument panel warning light is c
© 2016-2023 Copyright Renault Clio Owners Club