Renault Clio: ECO mode
ECO mode is a function which optimises fuel consumption. It acts on all elements which consume fuel (engine power, heating and/or air conditioning, etc).
Activating the function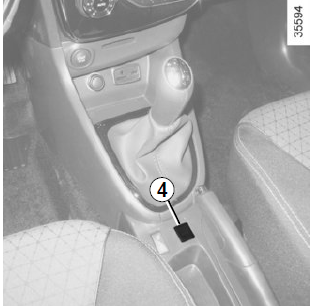 Press switch 4.
The 5 warning light comes on on the instrument panel to confirm activation.
While driving, it is possible to leave the ECO mode temporarily in order to improve engine performance.
Depress the accelerator pedal firmly and fully.
ECO mode is reactivated when you take pressure off the accelerator pedal.
Disabling the function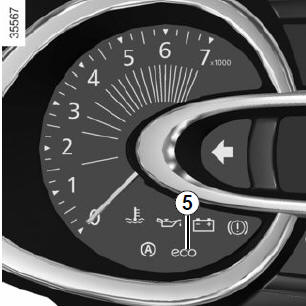 Press switch 4.
The 5 light goes out on the instrument panel to confirm deactivation.
READ NEXT:
Behaviour Drive carefully for the first few miles until the engine reaches its normal operating temperature, rather than let it warm up while the vehicle is stationary. Speed is expens
Your vehicle complies with criteria for recycling and recovering vehicles at the end of their service life which will come into force in 2015. Some parts of your vehicle have therefore been des
Your vehicle has been designed with respect for the environment in mind for its entire service life: during production, use and at the end of its life. This commitment is illustrated by the of
SEE MORE:
Operating principle After the vehicle is started, the system automatically locks the doors when you are driving at approximately 6 mph (10 km/h) and over. The door can be unlocked: by pressing the door unlocking button 1. by opening a front door (vehicle stationary). NB: if a d
The presence and location of this equipment depends on the vehicle version. Multimedia touchscreen; Multimedia sockets; Steering column control; Voice commands; Microphone. Refer to the equipment instructions for information on how to operate this equipment.
© 2016-2020 Copyright www.rclio.com