Renault Clio: ECO mode
ECO mode is a function which optimises fuel consumption. It acts on all elements which consume fuel (engine power, heating and/or air conditioning, etc).
Activating the function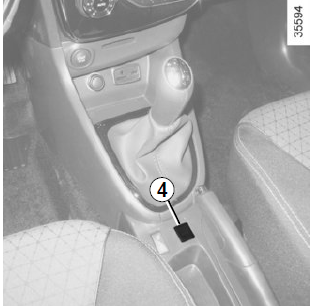 Press switch 4.
The 5 warning light comes on on the instrument panel to confirm activation.
While driving, it is possible to leave the ECO mode temporarily in order to improve engine performance.
Depress the accelerator pedal firmly and fully.
ECO mode is reactivated when you take pressure off the accelerator pedal.
Disabling the function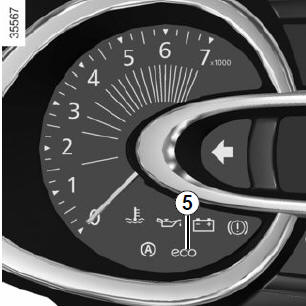 Press switch 4.
The 5 light goes out on the instrument panel to confirm deactivation.
READ NEXT:
Behaviour Drive carefully for the first few miles until the engine reaches its normal operating temperature, rather than let it warm up while the vehicle is stationary. Speed is expens
Your vehicle complies with criteria for recycling and recovering vehicles at the end of their service life which will come into force in 2015. Some parts of your vehicle have therefore been des
Your vehicle has been designed with respect for the environment in mind for its entire service life: during production, use and at the end of its life. This commitment is illustrated by the of
SEE MORE:
AIR CONDITIONING or CLIMATE CONTROL I - SAFETY IMPORTANT The following must be worn when handling refrigerant: gloves, protective goggles (with side shields if possible). In the event of refrigerant fluid coming into contact with the eyes, rinse well with clean water continuously for 15 minutes.
The speed limiter function helps you stay within the driving speed limit that you choose, known as the limit speed. Controls Main "On/Off" switch. Limit speed activation, storage and increase switch (+). Decreasing the limit speed (-). Activation and recall of memorised
© 2016-2022 Copyright www.rclio.com