Renault Clio: Engine coolant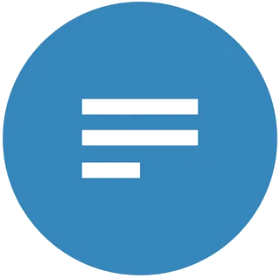 Renault Clio IV (2014-2019) Owners Manual
/
Maintenance
/
Levels
/ Engine coolant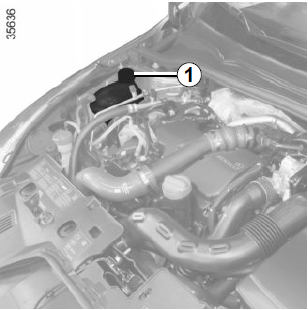 With the engine switched off and on level ground, the level when cold must be between the MINI and MAXI marks on reservoir 1.
Top this level up when cold before it reaches the MINI mark.
When working in the engine compartment, ensure that the windscreen wiper stalk is in the park position.

Risk of injury.
Frequency of checking coolant level
Check the coolant level regularly (very severe damage is likely to be caused to the engine if it runs out of coolant).
If the level needs to be topped up, only use products approved by our Technical Department which ensure:
protection against freezing;
an anti-corrosion protection for the cooling system.
Before performing any action in the engine compartment, the ignition must be switched off by pressing the engine stop button (please see the information on "Starting, stopping the engine" in Section 2).
Replacement interval
Refer to the Maintenance Document for your vehicle.
Consult your approved dealer at once if you notice an abnormal or repeated drop in any of the fluid levels.
No operations should be carried out on the cooling circuit when the engine is hot.

Risk of burns.
READ NEXT:
The level should be read with the engine switched off and on level ground. This should be checked frequently, and immediately if you notice even the slightest loss in braking efficiency.
Topping up With the engine switched off, open the cap 3. Fill until you can see the fluid, then replace the cap. Liquid Screen wash product (product with antifreeze in winter).
The replacement of filter components (air filter, cabin filter, diesel filter, etc.) is scheduled in the maintenance operations for your vehicle. Replacement intervals for filter elements: refe
SEE MORE:
WARNING The information contained in the following describes the general repair procedure for all vehicles having the same design for this part. Before reading the following general information, make sure that there are no special notes associated with the vehicle. These special notes are specified
D4F, and 740 or 742 or 764 Petrol vapour rebreathing solenoid valve Air inlet pressure sensor Motorised throttle valve Injection computer (5) Fuel injection computer (6) Motorised throttle valve (7) Fuel vapour recirculation solenoid valve (8) Ignition coil (9) Upstream oxygen sensor (1
© 2016-2023 Copyright Renault Clio Owners Club