Renault Clio: Gear lever/Handbrake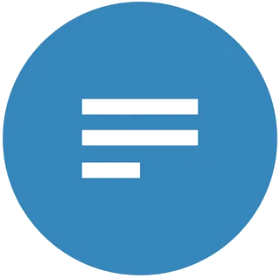 Renault Clio IV (2014-2019) Owners Manual
/
Driving
/ Gear lever/Handbrake
Gear lever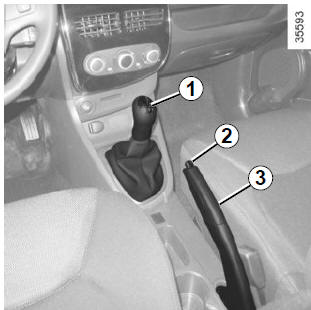 Vehicles with manual gearbox: refer to the grid on the gear lever knob 1.
Vehicles with automatic gearbox: refer to the information on the "Automatic gearbox" in Section 2.
Selecting reverse gear The reversing lights will come on as soon as reverse gear is selected with the ignition on.
Handbrake
To release: Pull the lever 3 up slightly, press button 2 and then lower the lever to the floor.
The red warning light on the instrument panel will come on if you are driving with an incorrectly released handbrake.
To apply: Pull lever 3 upwards. Check that the vehicle is immobilised. The warning light

on the instrument panel will
come on.
An impact to the underside of the vehicle while manoeuvring (e.g.: striking a post, raised kerb or other street furniture) may result in damage to the vehicle (e.g.: deformation of an axle).

To avoid any risk of accident, have your vehicle checked by an approved Dealer.
Make sure that the handbrake is fully released when driving (red indicator light off), otherwise overheating, or even damage, may occur.
When stationary, and depending on the slope and/or vehicle load, it may be necessary to pull up the handbrake at least two extra notches and engage a gear (1st or reverse gear) for vehicles with a manual gearbox or position P for vehicles with an automatic gearbox.
READ NEXT:
Fuel consumption is accredited in accordance with a standard regulatory method. Identical for all manufacturers, this enables vehicles to be compared with one another. Consumption in real time de
Gear change indicator 1 To obtain optimum consumption levels, a warning light on the instrument panel lets you know the best time to move up or down a gear: move up a gear; move down a gea
Once the engine is switched off, you will see "Journey record" displayed on the screen 3, enabling you to view information relating to your last journey. This indicates: average fuel
SEE MORE:
LEFT-HAND DRIVE REMOVAL I - REMOVAL PREPARATION OPERATION Put the vehicle on a two-post lift (see Vehicle: Towing and lifting). Disconnect the battery (see Battery: Removal - Refitting). Fit a pedal press on the brake pedal. K4J or K4M or K9K Remove the battery (see Battery: Removal - Refit
The kit repairs tyres when tread A has been damaged by objects smaller than 4 mm. It cannot repair all types of puncture, such as cuts larger than 4 mm, or cuts in tyre sidewall B. Ensure also that the wheel rim is in good condition. Do not pull out the foreign
© 2016-2023 Copyright Renault Clio Owners Club