Renault Clio: Rear bench seat: functions
Position for use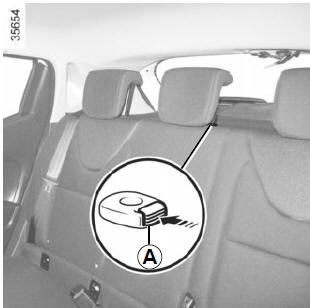 Raise the headrest as far as possible to use it in the high position. Check that it is correctly locked.
Storage position
Press button A and lower the headrest completely.
When the headrest is set at the lowest position, this is for storage only. It should not be in this position when a seat is occupied.
To raise the headrest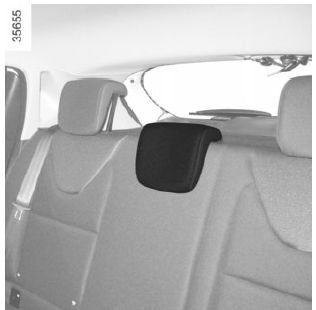 Raise the headrest as far as it will go, then press button A and remove the headrest.
To refit the headrest
Enter the rods in their housing and push down the headrest until it locks to use it in the high position. Check that it is correctly locked.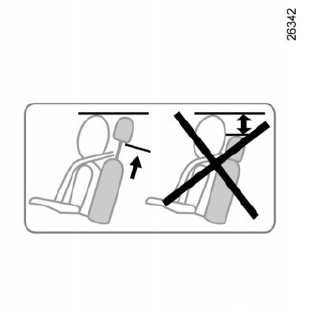 The headrest is a safety component; check that it is fitted and in the correct position.

The top of the headrest should be as close as possible to the top of the head.
To fold down the seatback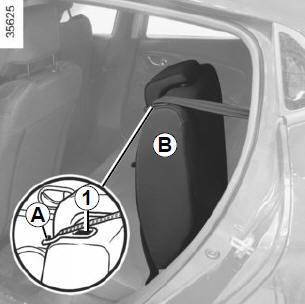 Ensure that the front seats are far enough forward.
Lower the headrests fully.
Place the seat belts in their guides A.
Press button 1 and lower the seatback B.
Before moving the seatback, put the seat belt in belt guide A to avoid damaging it
To replace the seatback, proceed in the reverse order to removal.
Refit the seatback and click it back into place.
For safety reasons, carry out any adjustments when the vehicle is not being driven.

The configuration of the two-seat bench with the small seatback B pulled down, does not allow the central seat to be used as it would be impossible to buckle the seat belt (belt buckles inaccessible).
When moving the rear seats, ensure that nothing obstructs the anchorage points (passenger's arm or leg, a pet, gravel, cloth, toys, etc.).
When refitting the seatback, make sure it is correctly locked in place.

If seat covers are fitted, make sure these do not prevent the seatback latch from locking in.

Make sure that the seat belts are positioned correctly.

Reposition the headrests.
READ NEXT:
To open Press button 1 and lift the tailgate. To close Lower the tailgate using the handles 2 inside the tailgate to help you Opening the doors manually from the inside If it is impossib
Removal Lower the rear headrests; unhook the two cords 1 from the boot door; lift the parcel shelf 2 to half height in order to unclip it (movement A); push the shelf in (B m
To remove the flexible section of the luggage compartment cover 1 Pull handle 2 gently to release the pins from their mounting points located on each side of the luggage boot. Guide the lugg
SEE MORE:
EQUIPMENT LEVEL E3 LEISURE or EQUIPMENT LEVEL EA1 or EQUIPMENT LEVEL EA2 or EQUIPMENT LEVEL EA3 or EQUIPMENT LEVEL EA4 or EQUIPMENT LEVEL EA5 or EQUIPMENT LEVEL EAG The removal - refitting procedure is the same for alloy and steel wheels. REMOVAL I - REMOVAL PREPARATION OPERATION Position the ve
Direction indicator lights Turn the bulb holder 1 a quarter of a turn and take out the bulb. Bulb type: PY24. Once the bulb has been replaced, check that it is properly secured. The engine may be hot when carrying out operations in close proximity. In addition, the engi
© 2016-2023 Copyright www.rclio.com