Renault Clio: Boot
To open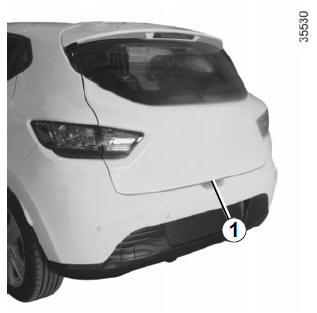 Press button 1 and lift the tailgate.
To close
Lower the tailgate using the handles 2 inside the tailgate to help you
Opening the doors manually from the inside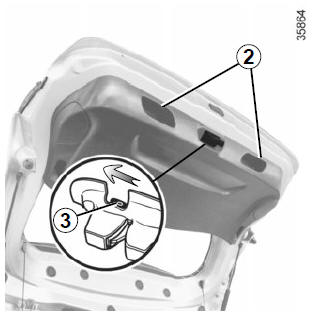 If it is impossible to unlock the tailgate, it can be done manually from inside:
access the luggage compartment by tilting the rear bench seatback(s),
insert a pencil or similar object in recess 3 and slide the unit as shown in the illustration;
push the tailgate to open it.
Do not place any objects, especially heavy or hard objects, on the parcel shelf.

These may pose a risk to the vehicle occupants if the driver has to brake suddenly or if the ve
READ NEXT:
Removal Lower the rear headrests; unhook the two cords 1 from the boot door; lift the parcel shelf 2 to half height in order to unclip it (movement A); push the shelf in (B m
To remove the flexible section of the luggage compartment cover 1 Pull handle 2 gently to release the pins from their mounting points located on each side of the luggage boot. Guide the lugg
Mobile floor When fitted to the vehicle, it can be used to make loading easier. Note: if you need to access the ISOFIX ring and/or the net ring at the bottom of the boot, open flap 3.
SEE MORE:
REMOVAL OPERATION FOR REMOVAL OF PART CONCERNED K85, and DOCUMENTATION PHASE 1 Move the rear fog light using the tool (Car. 1363) as a lever at (1). B85 or C85 or S85, and DOCUMENTATION PHASE 2 Move the rear fog light using the tool (Car. 1363) as a lever at (2). Disconnect the rea
EQUIPMENT LEVEL EAC or EQUIPMENT LEVEL SPORT Brake discs cannot be reground. If there is excessive scoring or wear, they will need to be replaced (see 30A, General information, Brake: Specifications, 30A-9). IMPORTANT To avoid all risk of damage to the systems, apply the safety and cleanliness inst
© 2016-2023 Copyright Renault Clio Owners Club