Renault Clio: Rear parcel shelf
Removal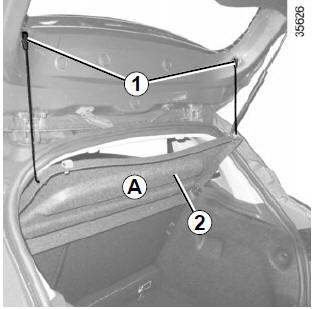 Lower the rear headrests;
unhook the two cords 1 from the boot door;
lift the parcel shelf 2 to half height in order to unclip it (movement A);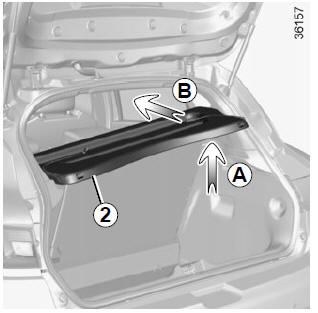 push the shelf in (B movement) and turn it;
pull the shelf towards you.
To refit, proceed in the reverse order to removal.
Maximum weight on rear parcel shelf: 25 kg, evenly distributed.
Utility version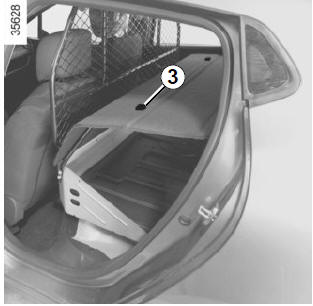 Unclip mountings 3 on either side of the parcel shelf, then remove it via the boot.
To refit it, proceed in the reverse order to removal.
Do not place any objects, especially heavy or solid objects on the luggage compartment cover. These may pose a risk to the vehicle occupants if the driver has to brake suddenly or if the vehicle is involved in an accident.
READ NEXT:
To remove the flexible section of the luggage compartment cover 1 Pull handle 2 gently to release the pins from their mounting points located on each side of the luggage boot. Guide the lugg
Mobile floor When fitted to the vehicle, it can be used to make loading easier. Note: if you need to access the ISOFIX ring and/or the net ring at the bottom of the boot, open flap 3.
Always position the objects transported so that the largest surface is against: The rear bench seatback for normal loads (example A). The front seatbacks with the rear seatbacks
SEE MORE:
The controls Adjusting the air temperature. Adjusting the ventilation speed. Air conditioning. Distribution of air in the passenger compartment. De-icing/demisting of the rear screen and, depending on the vehicle, the door mirrors. Air recirculation. Switching air conditio
Electrical and electronic accessoriesBefore installing this type of accessory (particularly for transmitters/receivers: frequency bandwidth, power level, position of the aerial, etc.), make sure it is compatible with your vehicle. You can get advice from an authorised dealer.
© 2016-2020 Copyright www.rclio.com