Renault Clio: Rear brake hose: Removal - Refitting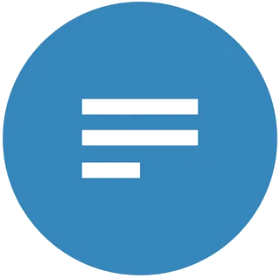 Renault Clio III (2005-2013) Service Manual
/
Chassis
/
Rear Axle Components
/ Rear brake hose: Removal - Refitting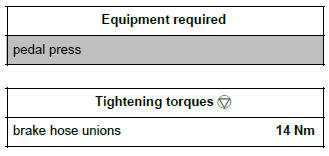 REMOVAL
I - REMOVAL PREPARATION OPERATION
Position the vehicle on a two-post lift (see Vehicle: Towing and lifting) (MR 392, 02A, Lifting equipment).
WARNING
Prepare for brake fluid outflow, to prevent damage to the mechanical parts and bodywork around the braking system.
Fit the pedal press to the brake pedal to limit the outflow of brake fluid.
II - OPERATION FOR REMOVAL OF PART CONCERNED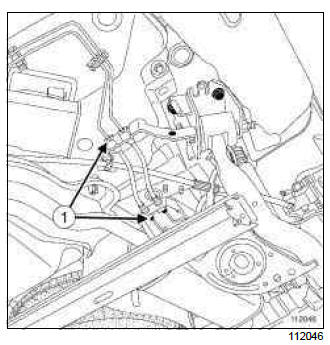 Remove:

the unions (1) from the pipe concerned,
the pipe concerned.
REFITTING
I - REFITTING PREPARATIONS OPERATION
WARNING
Do not twist the brake hose.
Make sure that there is no contact between the brake hose and the surrounding components.
II - REFITTING OPERATION FOR PART CONCERNED
Refit the hose.
Torque tighten the brake hose unions (14 Nm).
III - FINAL OPERATION.
Remove the pedal press from the brake pedal.
Bleed the brake circuit (see 30A, General information, Braking circuit: Bleed, 30A-4).
Check the brake fluid level.
READ NEXT:
WARNING Prepare for the flow of fluid, and protect the surrounding components. REMOVAL I - REMOVAL PREPARATION OPERATION Position the vehicle on a two-post lift (see Vehicle: Towing and lifting) (
Note: The callipers supplied as replacement parts are pre-filled. REMOVAL I - REMOVAL PREPARATION OPERATION Position the vehicle on a two-post lift (see Vehicle: Towing and lifting). WARNING Pre
DISC BRAKE REMOVAL I - REMOVAL PREPARATION OPERATION Put the vehicle on a two-post lift (see Vehicle: Towing and lifting). Remove: the rear wheels (see 35A, Wheels and tyres, Wheel: Removal -
SEE MORE:
DISC BRAKE Brake discs cannot be reground. If there is excessive scoring or wear, they will need to be replaced (see 30A, General information, Brake: Specifications, 30A-9). When replacing a brake disc, be sure to replace the disc on the opposite side. Be sure to replace the brake pads if the bra
Force limiter Above a certain severity of impact, this mechanism is used to limit the force of the belt against the body so that it is at an acceptable level. Have the entire restraint system checked following an accident. No operation whatsoever is permitted on
© 2016-2023 Copyright Renault Clio Owners Club