Renault Clio: Rear view mirrors
Door mirrors with electrical adjustment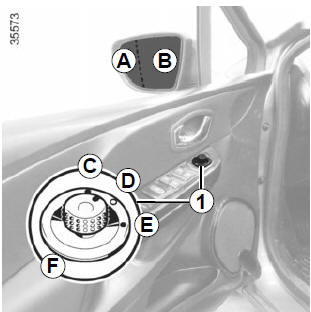 With the ignition on, turn button 1:
position C to adjust the left-hand door mirror;
position E to adjust the right-hand door mirror;
D is the inactive position.
For safety reasons, carry out any adjustments when the vehicle is not being driven.
Heated door mirrors
With the engine running, mirror deicing is activated simultaneously with rear screen de-icing/demisting.
Folding door mirrors (depending on vehicle)
Move button 1 to position F: the door mirrors fold away. To reset them for driving, return to position C, D or E.
If you manually fold the door mirrors, before setting them to the driving position (C, D, E), you must position control 1 to F
The driver's door mirror may have two clearly defined zones. Zone B shows what can normally be seen in an ordinary rear view mirror.

Zone A increases rear side visibility.

Objects in zone A look much further away than they really are.
Interior rear view mirror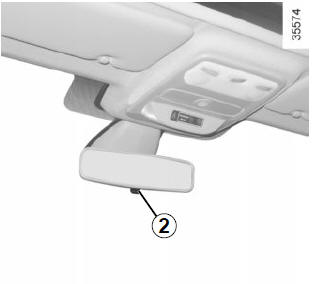 Its position can be adjusted.
Rear-view mirror with lever 2
For night driving, to avoid being dazzled by the headlights of the car behind you, flip the small lever 2 located behind the rear view mirror.
Rear view mirror without lever 2
The rear view mirror darkens automatically at night if you are being followed by a vehicle with its lights on.
READ NEXT:
Side lights Turn the ring 2 until the symbol is opposite mark 3. An indicator light on the instrument panel will come on. Daytime running lights function (front lights only) Dependin
Horn Press steering wheel boss A. Headlight flasher Pull stalk 1 towards you to flash the headlights. Direction indicators Move stalk 1 parallel to the steering wheel and in the direction y
On vehicles fitted with this function, control A allows you to adjust the height of the beams according to the load. Turn control A downwards to lower the headlights and upwards to raise the
SEE MORE:
REMOVAL I - REMOVAL PREPARATION OPERATION Position the vehicle on a two-post lift (see Vehicle: Towing and lifting) (MR 392, 02A, Lifting equipment). WARNING Prepare for brake fluid outflow, to prevent damage to the mechanical parts and bodywork around the braking system. Fit the pedal press
LEFT-HAND DRIVE, and AIR CONDITIONING or STANDARD HEATING REMOVAL I - REMOVAL PREPARATION OPERATION Remove: the glovebox (see Glovebox: Removal - Refitting) (MR 393, 57A, Interior equipment), the centre console (see Centre console: Removal - Refitting) (MR 393, 57A, Interior equipment).
© 2016-2021 Copyright www.rclio.com