Renault Clio: RENAULT card: battery
Replacing the battery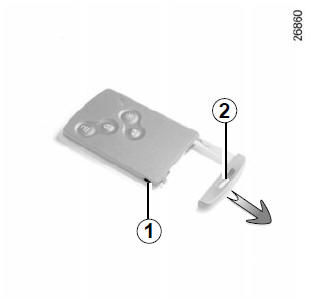 When the message "KEYCARD BATTERY LOW" appears on the instrument panel, replace the RENAULT card battery, press button 1 pulling on emergency key 2, then unclip the cover 3 using tab 4.
Remove the battery by pressing on one side (movement A) and by lifting the other (movement B) then replace it, ensuring the polarity and model, shown on cover 3 are respected.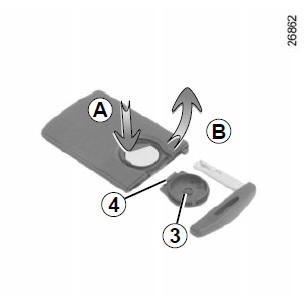 When refitting, proceed in the reverse order, then press one of the buttons on the card four times, close to the vehicle: the next time the vehicle is started, the message will disappear.
Note: it is not advisable to touch the electronic circuit or contacts on the RENAULT card when replacing the battery.
Check that the cover is clipped shut.
The batteries are available from approved Dealers, and their service life approximately two years. Check that there is no dye on the battery: risk of an incorrect electrical contact.
Operating faults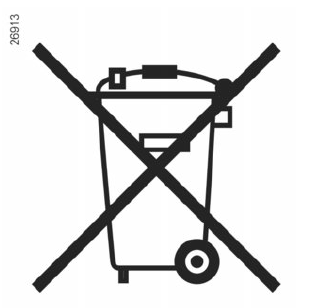 If the battery is too weak to ensure correct operation, you may start (insert the RENAULT card in the card reader) and lock/unlock the vehicle (refer to the information on "Locking/unlocking the doors" in Section 1).
Do not throw away your used batteries; give them to an organisation responsible for collecting and recycling batteries.
READ NEXT:
Fuses in passenger compartment A If any electrical component does not work, check the condition of the fuses. Unclip the access flap A. To comply with current legislation, or as a
To avoid all risk of sparks: Ensure that any electrical consumers (courtesy lights, etc.) are switched off before disconnecting or reconnecting the battery. When charging, stop the charger
Radio location 1 Unclip the blanking cover. The aerial, + and – supply and speaker wire connections are located behind it. Door speakers 2 To install any equipment, please consult an a
SEE MORE:
Position for use Raise the headrest as far as possible to use it in the high position. Check that it is correctly locked. Storage position Press button A and lower the headrest completely. When the headrest is set at the lowest position, this is for storage only. It should not be in t
To access display 1 for setting the time, press button 2 or 3. Wait for a few seconds. The hours and minutes flash and you are now in setting mode; press and hold button 2 or 3 to set the hours. Once the minutes flash, repeatedly press or press and hold button 2 ou 3 to set the time.
© 2016-2020 Copyright www.rclio.com