Renault Clio: Wheel: Removal - Refitting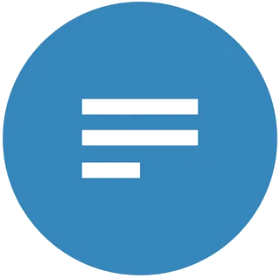 Renault Clio III (2005-2013) Service Manual
/
Chassis
/
Wheels And Tyres
/ Wheel: Removal - Refitting
EQUIPMENT LEVEL E3 LEISURE or EQUIPMENT LEVEL EA1 or EQUIPMENT LEVEL EA2 or EQUIPMENT LEVEL EA3 or EQUIPMENT LEVEL EA4 or EQUIPMENT LEVEL EA5 or EQUIPMENT LEVEL EAG

The removal - refitting procedure is the same for alloy and steel wheels.
REMOVAL
I - REMOVAL PREPARATION OPERATION
Position the vehicle on a two-post lift (see Vehicle: Towing and lifting) (02A, Lifting equipment).
Release the parking brake.
Remove the trim.
Position the wheel so that the valve is at the top.
Mark the position of the wheel on the hub.
Note:
This mark is necessary for:
marking the initial position of the wheel rim on the hub,
perform the balancing operation.
II - OPERATION FOR REMOVAL OF PART CONCERNED
Loosen the wheel bolts with the wheels on the ground.
Note: Use sockets with protective sheaths in order to avoid scratching the alloy wheel rims.
Raise the lift.
Remove:

the wheel bolts,
the wheel.
If the wheel cannot be removed after the bolt has been undone:
Position all the wheel bolts.
Tighten the wheel bolts to bring all the bolt heads into contact with the wheel.
Undo the wheel bolts by one turn.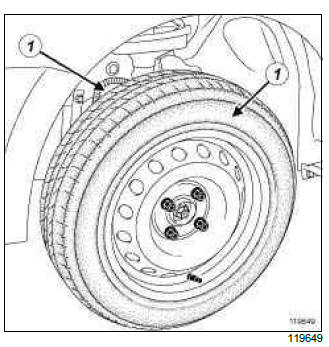 Strike around the edge of the tyre walls (1) several times using a mallet on the inner and outer surfaces of the wheel to detach the wheel rim.
Remove:

the wheel bolts,
the wheel.
If this procedure does not work: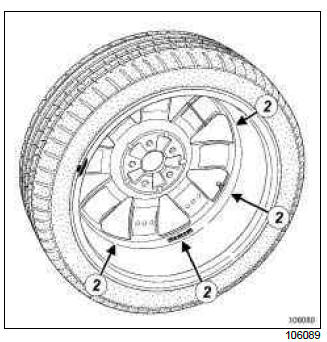 Strike the inner surface of the wheel (2) using a mallet and a wooden block to detach it.
Note: Do not strike the surface of the wheel using excessive force as this may damage it.
Remove:

the wheel bolts,
the wheel.
REFITTING
I - REFITTING PREPARATION OPERATION
Clean the hub carrier using a wire brush.
Note: There are two types of wheel bolts for aluminium and steel wheel rims; do not swap them.
Check the condition of the tyre.
Do not move or remove the balance weights.
II - REFITTING OPERATION FOR PART CONCERNED
Clean the mating surfaces between the wheel and the hub carrier using a wire brush.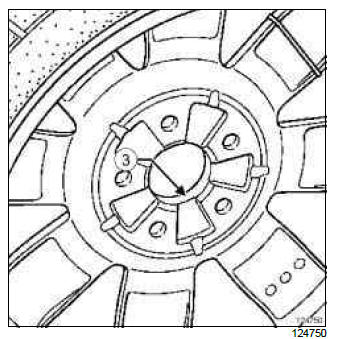 Coat the wheel rim mating face (3) with COPPER ANTI-SEIZE AGENT (see Vehicle: Parts and consumables for the repair) (04B, Consumables - Products).
Align the mark of the wheel rim with the mark on the hub, which was made at the time of the removal operation.
Fit the wheel to the vehicle, positioning the valve at the top.
Insert the wheel bolts.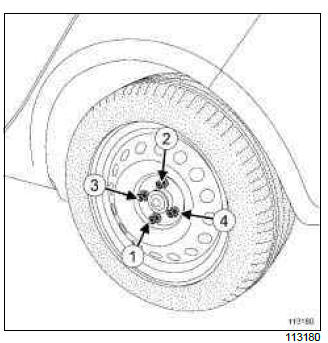 Tighten the wheel bolts to bring all the bolt heads into contact with the wheel.
Pretighten the wheel bolts (30 N.m), with the wheel hanging, starting with the bottom bolts.
Rotate the wheel through 180
READ NEXT:
I - PREREQUISITES FOR WHEEL BALANCING Wheel balancing is a measurement operation. Several conditions must be met to achieve a reliable result in a single operation. The wheel balancer must be in
REMOVAL I - REMOVAL PREPARATION OPERATION Position the vehicle on a two-post lift (see Vehicle: Towing and lifting) (02A, Lifting equipment). Remove: the wheel in question (see 35A, Wheels and ty
I - INFLATION WARNING If checking the tyre pressure when hot, increase the recommended pressure by 0.2 to 0.3 bar. B85 or C85 or S85 The pressure values given are recommendations when cold. K85 II
SEE MORE:
D4F, and 740 or 742 or 764, and STANDARD HEATING REMOVAL I - REMOVAL PREPARATION OPERATION Position the vehicle on a two-post lift (see Vehicle: Towing and lifting) (MR 392, 02A, Lifting equipment). Disconnect the battery (see Battery: Removal - Refitting) (MR 392, 80A, Battery). Remove: th
WARNING Never use the rear axle as support for a lifting system. ADJUSTMENT Position the vehicle on a two-post lift (see Vehicle: Towing and lifting). Release the parking brake. Remove the rear wheels (see 35A, Wheels and tyres, Wheel: Removal - Refitting, 35A-1). Unclip the speed sensor
© 2016-2023 Copyright Renault Clio Owners Club