Renault Clio: Wheel rim: Identification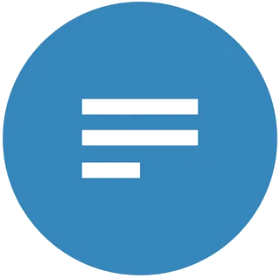 Renault Clio III (2005-2013) Service Manual
/
Chassis
/
Wheels And Tyres
/ Wheel rim: Identification
IDENTIFICATION
1 - Marking
There are two types of identification marking on the wheel rims:
engraved marking for steel wheel rims,
cast marking for alloy wheel rims.
The marking gives the main dimensional specifications of the wheel rim.
This marking may be:
complete, for example 6 J 15 5 CH 36,
simplified, for example 6 J 15.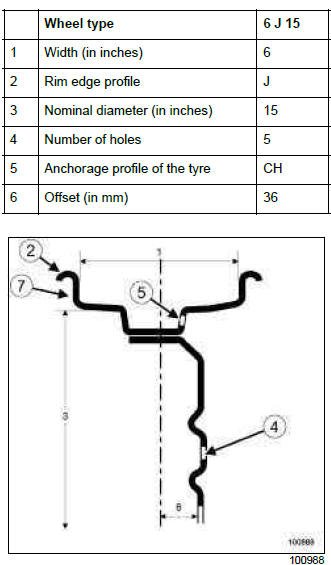 There are 3 types of wheel rim edges (2) :
those with two flat edges,
those with two raised edges,
those with one flat edge and one raised edge.
2 - Installation diameter for the wheel bolts
The wheel bolts are positioned with a pitch circle diameter of:
5 holes: 108 mm,
4 holes: 100 mm.
3 - Rim run-out
The maximum run-out is measured at the wheel rim edge (7).
Steel wheel rims: 0.8 mm
Alloy wheel rims: 0.3 mm
4 - Out-of-roundness
The maximum out-of-round value is measured on the tyre bead bearing surface.
0.7 mm
Emergency spare wheel winch: Removal - Refitting

IMPORTANT
Only manipulate the emergency spare wheel lashing system when the vehicle is on the ground.
REMOVAL
I - REMOVAL PREPARATION OPERATION
Open the vehicle's boot.
Lift the luggage compartment carpet.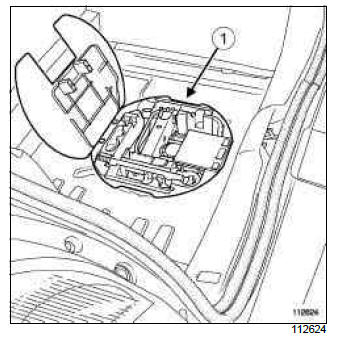 Remove the emergency spare wheel cover (1).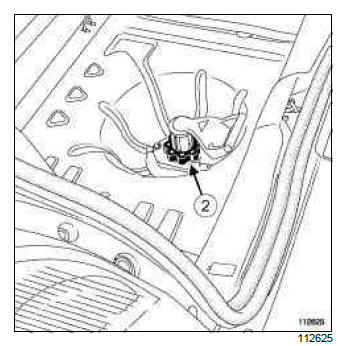 Fully undo the white wheel (2).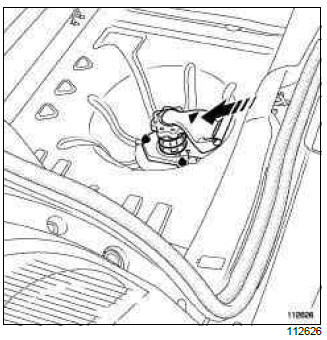 Press the arrow several times until the emergency spare wheel falls on to the ground.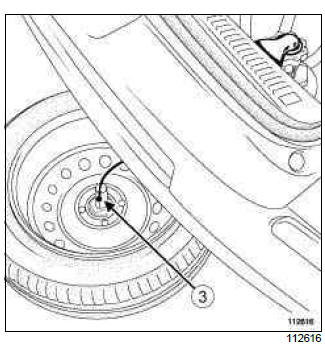 Remove the winch cable (3) from its housing.
Remove the emergency spare wheel.
II - OPERATION FOR REMOVAL OF PART CONCERNED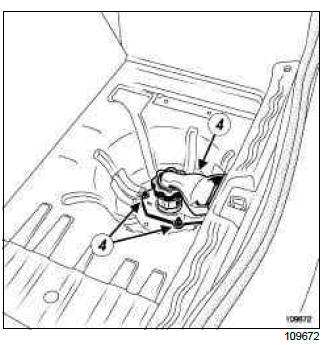 Remove:

the winch mounting nuts (4),
the emergency spare wheel winch.
REFITTING
I - REFITTING PREPARATIONS OPERATION
Note: The handle and winch are sold unassembled when purchased as a spare part. Assemble the two components for fitting operations.
To assemble, clip the plastic cup located at the end of the cable onto the winch.
II - REFITTING OPERATION FOR PART CONCERNED
Refit:

the emergency spare wheel winch,
the winch mounting nuts.

Torque tighten the emergency spare wheel winch mounting nuts (21 Nm).
III - FINAL OPERATION.
Check that there is a spacer under the floor; this should only be used for an emergency spare wheel fitted with a 165 tyre.
Place the winch cable back into the housing.
Pull the winch lever to reposition the emergency spare wheel.
Tighten the white wheel whilst holding the lever.
Continue tightening until you hear a click.
Check that the emergency spare wheel has been correctly attached.
Refit the emergency spare wheel cover.
Refit the boot carpet.
Close the boot.
READ NEXT:
Tyre pressure monitor: List and location of components TYRE PRESSURE SENSOR The system consists of: four pressure sensors (1) built into the valves (one per wheel); the sensors transmit a radio si
REMOVAL I - REMOVAL PREPARATION OPERATION Position the vehicle on a two-post lift (see Vehicle: Towing and lifting) (02A, Lifting equipment). Remove: the front wheels (see 35A, Wheels and tyres,
SEE MORE:
Accessing the mounting points Open the doors to access the mounting points 1. If original roof bars, approved by our Technical Department, are supplied with screws, only use these screws for attaching the roof bars to the vehicle. Precautions during use Handling t
WITHOUT ANTI-LOCK BRAKING SYSTEM REMOVAL I - REMOVAL PREPARATION OPERATION Position the vehicle on a two-post lift (see Vehicle: Towing and lifting) (MR 392, 02A, Lifting equipment). Fit the tool pedal press in order to limit the outflow of the brake fluid. WARNING Prepare for the flow of flu
© 2016-2023 Copyright Renault Clio Owners Club