Renault Clio: Battery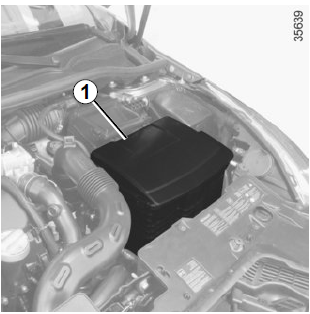 This is located under cover 1 and does not need to be serviced.
Handle the battery with care as it contains sulphuric acid, which must not come into contact with eyes or skin. If it does, wash the affected area with plenty of cold water. If necessary, consult a doctor.

Ensure that naked flames, red hot objects and sparks do not come into contact with the battery as there is a risk of explosion.
Replacing the battery
As this operation is complex, we advise you to contact an approved Dealer.
Before performing any action in the engine compartment, the ignition must be switched off by pressing the engine stop button (please see the information on "Starting, stopping the engine" in Section 2).
The battery is a specific type, please ensure it is replaced with the same type. Consult an approved dealer.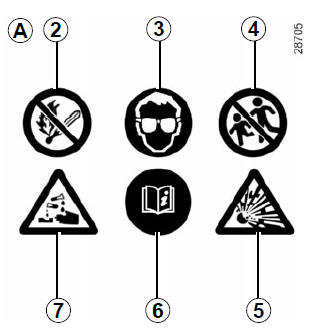 Label A
Observe the indications on the battery:
2 naked flames and smoking are forbidden;
3 eye protection required;
4 keep away from children;
5 explosive materials;
6 refer to the handbook;
7 corrosive materials.
The engine may be hot when carrying out operations in close proximity. In addition, the engine cooling fan can come on at any moment.

Risk of injury.
READ NEXT:
A well-maintained vehicle will last longer. It is therefore recommended to maintain the exterior of the vehicle regularly. Your vehicle has been treated with very effective anti-corrosion produc
A well-maintained vehicle will last longer. It is therefore recommended to maintain the interior of the vehicle regularly. A stain should always be dealt with swiftly. Whatever type of stain
SEE MORE:
D4F, and 740 or 742 or 784 REMOVAL I - REMOVAL PREPARATION OPERATION Position the vehicle on a two-post lift (see Vehicle: Towing and lifting) (MR 392, 02A, Lifting equipment). Disconnect the battery (see ) (MR 392, 80A, Battery). D4F, and 740 or 742 Remove the air filter unit (see 12A, Fuel
K9K REMOVAL I - REMOVAL PREPARATION OPERATION Remove: the engine covers, the air filter duct. II - OPERATION FOR REMOVAL OF PART CONCERNED Undo the vacuum pump retaining bracket bolt (3). Remove: the hose (1) connected to the brake servo, the pipe (2), the vacuum pump bolts (4)
© 2016-2023 Copyright www.rclio.com