Renault Clio: Boot storage
Mobile floor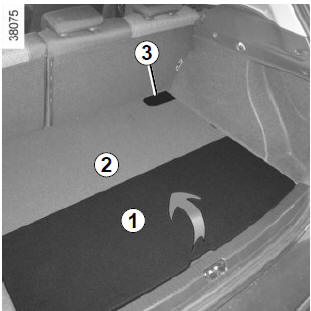 When fitted to the vehicle, it can be used to make loading easier.
Note: if you need to access the ISOFIX ring and/or the net ring at the bottom of the boot, open flap 3.
Maximum weight for the mobile floor: 100 kg evenly distributed.
Movable floor storage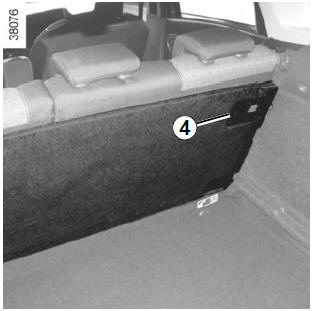 Lower section 1 onto section 2;
lift the assembly and position it against the back of the rear bench seat;
push the catch 4 to lock the mobile floor in the folded position.
Removing the mobile floor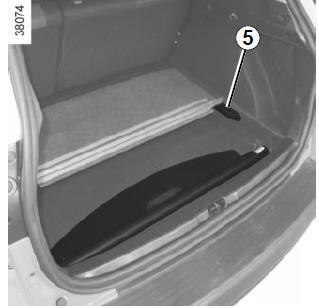 Lower section 1 onto section 2;
remove the assembly.
Repositioning the mobile floor
Position it in the boot, using the 5 runners provided.
READ NEXT:
Always position the objects transported so that the largest surface is against: The rear bench seatback for normal loads (example A). The front seatbacks with the rear seatbacks
Permissible nose weight, maximum permissible towing weight, braked and unbraked: refer to the information on "Weights" in Section 6. For fitting and conditions of use,
SEE MORE:
K9K Remove the heater plugs (see 13C, Preheating, Heater plugs: Removal - Refitting, 13C-2). Disconnect: the pressure regulation solenoid valve connector (1), the flow control solenoid valve connector (2), Fit the hose end piece (Mot. 1592) in place of one of the removed plugs.
Diesel engine speed Diesel engines are fitted with injection equipment which prevents the engine speed being exceeded irrespective of the gear selected. If the message "CHECK ANTIPOLLUTION SYSTEM" is displayed along with warning lights and , consult an authorised dealer immediately.
© 2016-2021 Copyright www.rclio.com