Renault Clio: Charge circuit: Specifications
D4F or F4R or K4J or K4M or K9K or M4R
ALTERNATOR SPECIFICATIONS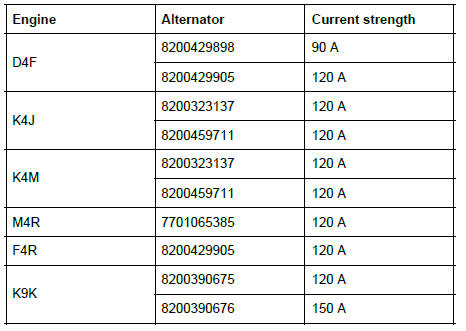 Charge circuit: Function
D4F or F4R or K4J or K4M or K9K or M4R
OPERATION
These vehicles are fitted with a built-in regulator and an instrument panel warning light which operates as follows:
when the ignition is switched on, the warning light comes on,
the warning light goes out when the vehicle is started,
if the warning light comes on while the engine is running, it indicates a battery charge fault.
Charge circuit: Check
D4F or F4R or K4J or K4M or K9K or M4R
Check the current after 30 minutes of heating at a voltage of 13.5 V.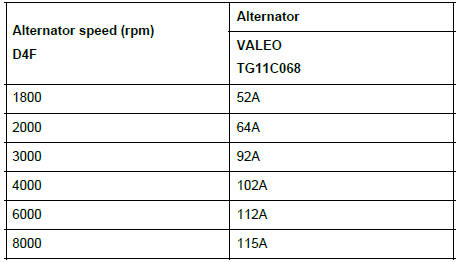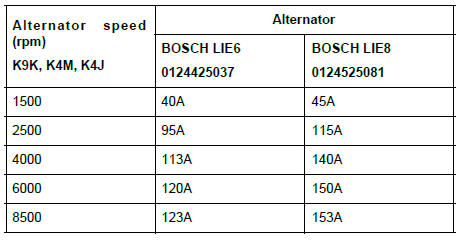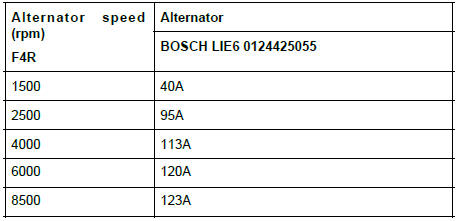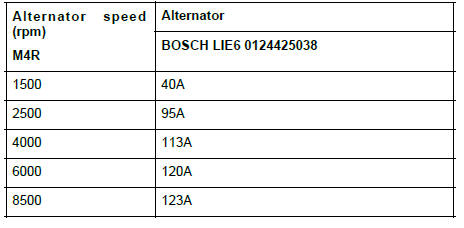 READ NEXT:
K4J, and STANDARD HEATING - K4M, and STANDARD HEATING REMOVAL I - REMOVAL PREPARATION OPERATION Position the vehicle on a two-post lift (see Vehicle: Towing and lifting). Remove the air inlet
D4F, and 740 or 742 or 764 REMOVAL I - REMOVAL PREPARATION OPERATION Disconnect the battery (see Battery: Removal - Refitting) (MR 392, 80A, Battery). Remove the air filter unit (see 12A, Fuel mi
SEE MORE:
IMPORTANT Consult the safety and cleanliness advice and operation recommendations before carrying out any repair (see 88A, Wiring harness, Wiring: Precautions for the repair, 88A-5). WARNING To prevent damage to the wiring harness when refitting, observe the original routing. REMOVAL I - REMOVAL PR
This is located under cover 1 and does not need to be serviced. Handle the battery with care as it contains sulphuric acid, which must not come into contact with eyes or skin. If it does, wash the affected area with plenty of cold water. If necessary, consult a doctor.
© 2016-2021 Copyright www.rclio.com