Renault Clio: Display B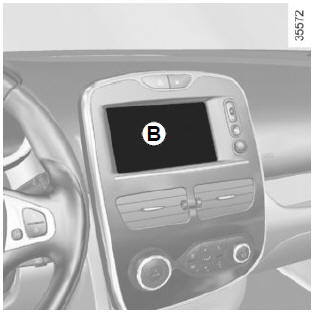 Vehicles fitted with touch-screen multimedia, navigation aid systems, telephones, etc.
Refer to the separate instructions for the function to understand the special features of this equipment.
External temperature indicator
Special note: When the exterior temperature is - 3°C to + 3°C, the °C characters flash (signalling a risk of ice on the road).
External temperature indicator As ice formation is related to climatic exposure, local air humidity and temperature, the external temperature alone is not sufficient to detect ice.
If the power supply is cut (battery disconnected, supply wire cut, etc.), the clock must be reset.

We recommend that you do not adjust these settings while driving.
READ NEXT:
Door mirrors with electrical adjustment With the ignition on, turn button 1: position C to adjust the left-hand door mirror; position E to adjust the right-hand door mirror; D is the
Side lights Turn the ring 2 until the symbol is opposite mark 3. An indicator light on the instrument panel will come on. Daytime running lights function (front lights only) Dependin
Horn Press steering wheel boss A. Headlight flasher Pull stalk 1 towards you to flash the headlights. Direction indicators Move stalk 1 parallel to the steering wheel and in the direction y
SEE MORE:
Electrical and electronic accessoriesBefore installing this type of accessory (particularly for transmitters/receivers: frequency bandwidth, power level, position of the aerial, etc.), make sure it is compatible with your vehicle. You can get advice from an authorised dealer.
Operating principle After the vehicle is started, the system automatically locks the doors when you are driving at approximately 6 mph (10 km/h) and over. The door can be unlocked: by pressing the door unlocking button 1. by opening a front door (vehicle stationary). NB: if a d
© 2016-2020 Copyright www.rclio.com