Renault Clio: Expansion chamber: Removal - Refitting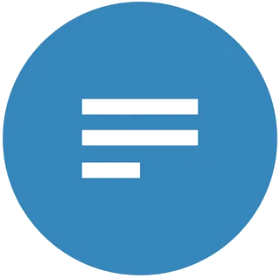 Renault Clio III (2005-2013) Service Manual
/
Engine And Peripherals
/
Exhaust
/ Expansion chamber: Removal - Refitting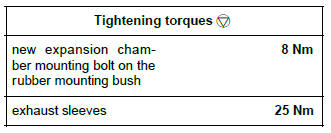 REMOVAL
I - REMOVAL PREPARATION OPERATION
Position the vehicle on a two-post lift (see Vehicle: Towing and lifting) (MR 392, 02, Lifting equipment).
Remove the engine undertray.
Cut the exhaust pipe (see ) and (see 19B, Exhaust, Exhaust: Precautions for the repair, 19B- 19).
II - OPERATION FOR REMOVAL OF PART CONCERNED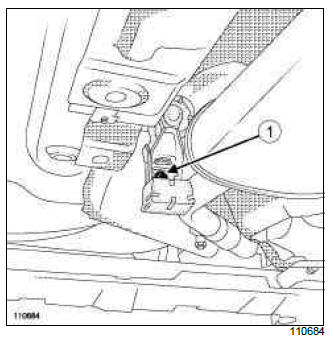 Remove:

the bolt (1) mounting the expansion chamber to the exhaust rubber mounting bush,
the expansion chamber.
Note: If the rubber mounting bushes are damaged, mark the position of the support on the body, then replace the " support - rubber mounting bush " assembly.
REFITTING
I - REFITTING OPERATION FOR PART CONCERNED
Fit:

the expansion chamber,
the sleeves,
the rubber mounting bush damper.

Torque tighten:

the new expansion chamber mounting bolt on the rubber mounting bush (8 Nm),
the exhaust sleeves (25 Nm) while lifting the exhaust pipe to ensure correct alignment (see 19B, Exhaust, Exhaust: Precautions for the repair, 19B-19).
II - FINAL OPERATION.
Check:

that all the exhaust pipe heat shields are in place and properly attached,
that there is no contact with the underbody.
WARNING
Make sure:
that the sleeve " nut-bolt tightening " assembly is vertical, with the nut facing downwards, to prevent any risk of underbody contact,
that you position the new component in a way that the cutting area marks are aligned,
that the two marks are flush with the two ends of the sleeve,
that an old sleeve is not reused.
that the bolts securing the rubber mounting bushes to the exhaust pipe have been replaced with new ones.
READ NEXT:
REMOVAL I - REMOVAL PREPARATION OPERATION Position the vehicle on a two-post lift (see Vehicle: Towing and lifting) (MR 392, 02A, Lifting equipment). II - OPERATION FOR REMOVAL OF PART CONCERNED
D4F or K4J or K4M or K9K or M4R REMOVAL I - REMOVAL PREPARATION OPERATION Position the vehicle on a two-post lift (see Vehicle: Towing and lifting) (MR 392, 02A, Lifting equipment). Cut the exhau
SEE MORE:
REMOVAL I - REMOVAL PREPARATION OPERATION Remove: the complete rear bench seat, the front seats (see 75A, Front seat frames and mechanisms, Complete front seat: Removal - Refitting, 75A-33), the centre console (see Centre console: Removal - Refitting), the front door sill trims (see 71
Replacing windscreen wiper blades 1 With the ignition off, lift wiper arm 2; turn blade 1. Lower tab 3, by pressing on either side A. Then push the blade forwards B, to release hook 4. To refit To refit the wiper blade, proceed in reverse order to removal. Make sure that t
© 2016-2023 Copyright Renault Clio Owners Club