Renault Clio: Flywheel: Removal - Refitting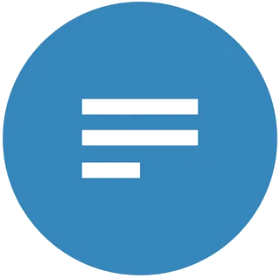 Renault Clio III (2005-2013) Service Manual
/
Engine And Peripherals
/
Engine And Cylinder Block Assembly
/ Flywheel: Removal - Refitting
D4F or F4R or K4J or K4M or K9K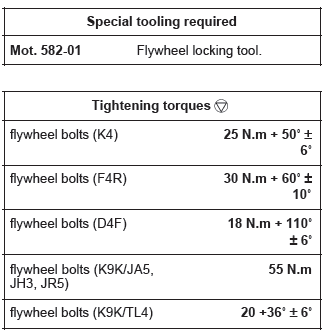 REMOVAL
I - REMOVAL PREPARATION OPERATION
Position the vehicle on a two-post lift (see Vehicle: Towing and lifting) (02A, Lifting equipment).
Disconnect the battery (see ) (80A, Battery).
Remove:

the gearbox (see Manual gearbox: Removal - Refitting) (21A, Manual gearbox),
the clutch pressure plate (see Pressure plate - Disc: Removal - Refitting) (20A, Clutch).
II - OPERATION FOR REMOVAL OF PART CONCERNED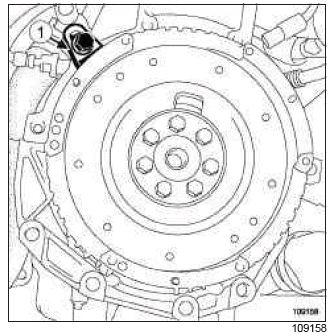 Lock the flywheel using tool (Mot. 582-01) (1).
Remove:

the flywheel bolts,
the flywheel,
the (Mot. 582-01) (1).
REFITTING
I - REFITTING PREPARATION OPERATION
parts always to be replaced: Flywheel bolts.
Use SURFACE CLEANER (see ) (04B, Consumables - Products) to clean and degrease:
the flywheel bearing face if reusing,
the crankshaft bearing face.
II - REFITTING OPERATION FOR PART CONCERNED
K9K, and TL4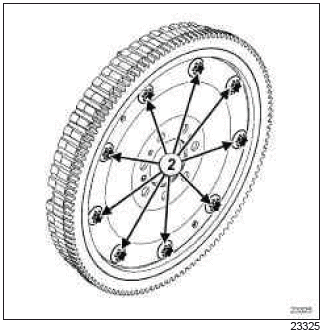 WARNING
Do not remove the flywheel drive plate mounting bolts (2).
K9K, and JA5 or JH3 or JR5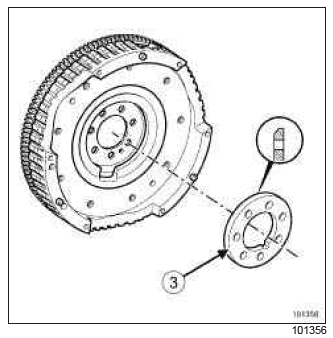 Refit the spacer (3) observing the fitting direction of the chamfer on the flywheel end.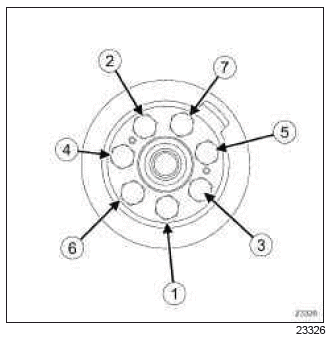 Observe the tightening order.
K4J or K4M
Tighten in order and to torque the flywheel bolts (K4) (25 N.m + 50
READ NEXT:
K4M, and DP0 REMOVAL I - REMOVAL PREPARATION OPERATION Remove the gearbox (see Automatic gearbox: Removal - Refitting). II - OPERATION FOR REMOVAL OF PART CONCERNED Set up the (Mot. 582-01) (2)
K9K Remove the heater plugs (see 13C, Preheating, Heater plugs: Removal - Refitting, 13C-2). Disconnect: the pressure regulation solenoid valve connector (1), the flow control solenoid val
SEE MORE:
D4F, and 740 or 742 or 764 REMOVAL I - REMOVAL PREPARATION OPERATION Remove the air filter unit (see 12A, Fuel mixture, Air filter unit: Removal - Refitting, 12A-17). II - OPERATION FOR REMOVAL OF PART CONCERNED Remove: the mounting bolts (1) from the air filter unit cover, the air filter
K9K, and 750 or 752 or 764 or 766 or 768 Note: Vehicles equipped with the K9K*768 engine may or may not be equipped with an intercooler. Disconnect the battery (see Battery: Removal - Refitting) (MR 392, 80A, Battery). Disconnect the inlet pressure sensor (1). Remove the air duct (3) betwee
© 2016-2023 Copyright Renault Clio Owners Club