Renault Clio: Opening and closing the doors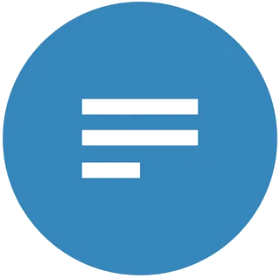 Renault Clio IV (2014-2019) Owners Manual
/
Getting to know your vehicle
/ Opening and closing the doors
Opening the doors from the outside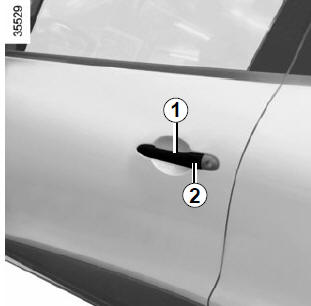 Front doors
With the doors unlocked, pull handle 1.
Special feature of the RENAULT "hands-free" card
With the doors locked, press button 2 on handle 1 of one of the two front doors and pull towards you.
Rear doors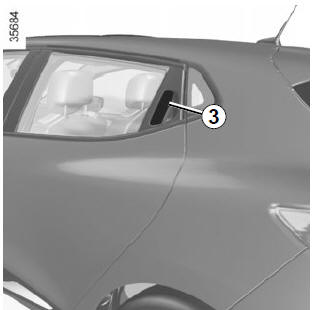 With the doors unlocked, pull handle 3.
Opening from the inside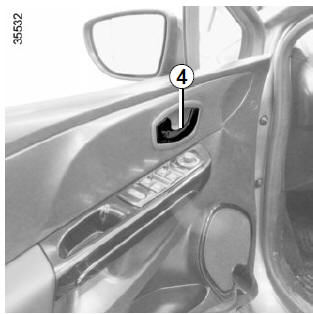 Pull handle 4.
As a safety precaution, the doors should only be opened or closed when the vehicle is stationary.
Lights-on reminder buzzer
If you have switched off the ignition and left the lights switched on, a reminder buzzer will sound when a door is opened.
Card reminder buzzer
When the driver's door is opened a beep will sound if the card is left in the reader and the message "Remove card" will appear on the instrument panel.
Door/tailgate open buzzer
If a door (or boot) is open or not properly closed, as soon as the vehicle reaches a speed of approximately 6 mph (10 km/h), the message "boot open" or "door open" (depending on which is open) will appear on the instrument panel accompanied by a warning light.
Child safety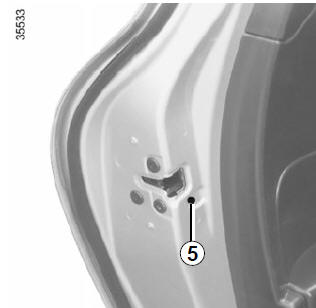 To make it impossible for the rear doors to be opened from the inside, move lever 5 on each door and check from the inside that the doors are securely locked.
Driver's responsibility when parking or stopping the vehicle Never leave an animal, child or adult who is not self-sufficient alone on your vehicle, even for a short time.

They may pose a risk to themselves or to others by starting the engine, activating equipment such as the electric windows or locking the doors.

Also, in hot and/or sunny weather, please remember that the temperature inside the passenger compartment increases very quickly.

RISK OF DEATH OR SERIOUS INJURY.
READ NEXT:
Locking/Unlocking the doors from the outside This is done using the RENAULT Card; see the "RENAULT Card" information in Section 1. In certain cases, the RENAULT card may not work: if t
Operating principle After the vehicle is started, the system automatically locks the doors when you are driving at approximately 6 mph (10 km/h) and over. The door can be unlocked: by p
To raise the headrest Pull the headrest upwards to the desired height. Check that it is correctly locked. To lower the headrest Press button 1 and guide the headrest down to the desired heig
SEE MORE:
LEFT-HAND DRIVE, and WITHOUT ANTI-LOCK BRAKING SYSTEM REMOVAL I - REMOVAL PREPARATION OPERATION Position the vehicle on a two-post lift (see Vehicle: Towing and lifting) (MR 392, 02A, Lifting equipment). Remove: the engine cover, the engine undertray, the air filter box air inlet pipe,
Note: The information contained in the following describes the general repair procedure for all vehicles having the same design for this part. Before reading the following general information, make sure that there are no special notes associated with the vehicle. These special notes are specified i
© 2016-2023 Copyright Renault Clio Owners Club