Renault Clio: Rear brake pads: Removal - Refitting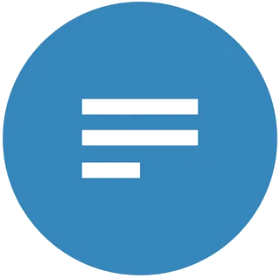 Renault Clio III (2005-2013) Service Manual
/
Chassis
/
Rear Axle Components
/ Rear brake pads: Removal - Refitting
16" ALUMINIUM WHEELS or 17" ALUMINIUM WHEELS or 16" STEEL WHEELS, and ELECTRONIC STABILITY PROGRAM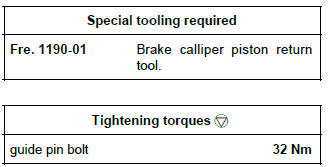 When replacing brake pads, be sure to replace the pads on the opposite side.
WARNING To avoid damaging the parking brake cable protectors and causing premature wear of the system, do not handle the cables with a tool.
REMOVAL
I - REMOVAL PREPARATION OPERATION
Position the vehicle on a two-post lift (see Vehicle: Towing and lifting) (02A, Lifting equipment).
Release the parking brake.
Remove the rear wheels (see 35A, Wheels and tyres, Wheel: Removal - Refitting, 35A-1).
II - OPERATION FOR REMOVAL OF PART CONCERNED
Remove the guide pin lower bolt.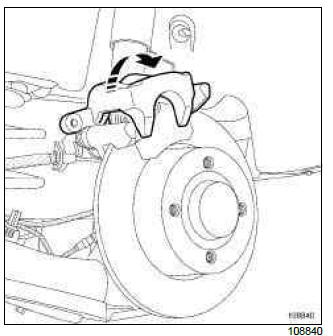 Tilt the calliper upwards.
Remove the brake pads.
REFITTING
I - REFITTING PREPARATION OPERATION
Check the thickness of the pads (see 30A, General information, Brake: Specifications, 30A-9).
Replace any faulty parts.
Clean the calliper mountings.
Clean using a wire brush and BRAKE CLEANER (see Vehicle: Parts and consumables for the repair) (04B, Consumables - Products):

the calliper brackets,
the callipers.

Always replace the brake calliper guide pin bolts.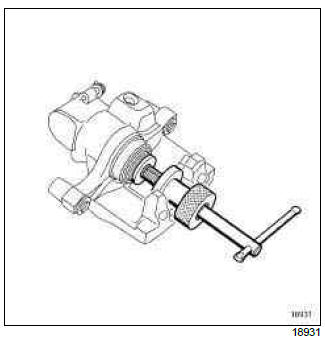 Push the calliper piston back using the (Fre. 1190- 01) until it reaches the end of its bore.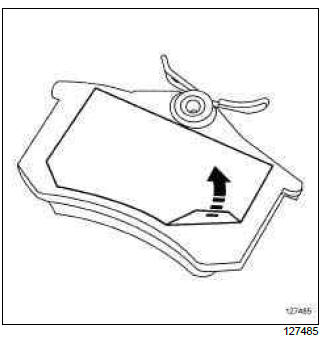 Remove the protective film from the brake pad.
II - REFITTING OPERATION FOR PART CONCERNED
Fit the brake pads.
Pivot the calliper downwards to return it to its original position.
Refit a new guide pin bolt.
Torque tighten the guide pin bolt (32 Nm).
III - FINAL OPERATION.
Refit the rear wheels (see 35A, Wheels and tyres, Wheel: Removal - Refitting, 35A-1).
IMPORTANT
To avoid any accident, bring the pistons, brake pads and brake discs into contact by depressing the brake pad several times.
READ NEXT:
REMOVAL I - REMOVAL PREPARATION OPERATION Position the vehicle on a two-post lift (see Vehicle: Towing and lifting) (MR 392, 02A, Lifting equipment). WARNING Prepare for brake fluid outflow, to p
WARNING Prepare for the flow of fluid, and protect the surrounding components. REMOVAL I - REMOVAL PREPARATION OPERATION Position the vehicle on a two-post lift (see Vehicle: Towing and lifting) (
Note: The callipers supplied as replacement parts are pre-filled. REMOVAL I - REMOVAL PREPARATION OPERATION Position the vehicle on a two-post lift (see Vehicle: Towing and lifting). WARNING Pre
SEE MORE:
K9K, and 764 or 772 WARNING Before starting work on the vehicle, obtain: a new blanking plug kit (part no. 77 01 476 857), cleaning wipes (part no. 77 11 211 707), cleaning product (part no. 77 11 224 188). WARNING Parts always to be replaced: all the high pressure pipes which have been rem
K9K IMPORTANT To avoid all risk of damage to the systems, apply the safety and cleanliness instructions and operation recommendations before carrying out any repair (see Vehicle: Precautions for the repair). IMPORTANT Wear leaktight gloves (Nitrile type) for this operation. REMOVAL I - REMOVAL PR
© 2016-2023 Copyright Renault Clio Owners Club