Renault Clio: Sequential gearbox oil: Specifications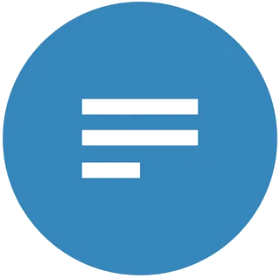 Renault Clio III (2005-2013) Service Manual
/
Transmission
/
Sequential Gearbox
/ Sequential gearbox oil: Specifications
5-SPEED MANUAL SEQUENTIAL GEARBOX
I - GEARBOX TYPE/OIL TYPE CORRELATIONS: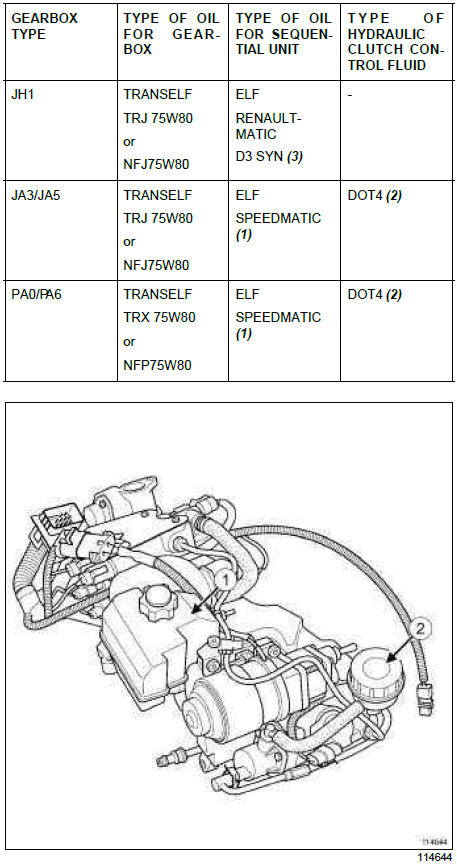 II - STANDARDS AND PART NUMBERS OF THE VARIOUS RECOMMENDED OILS: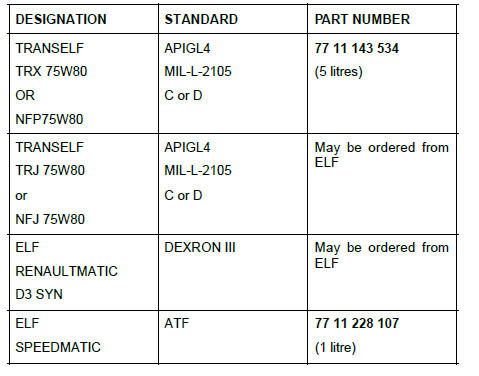 Sequential gearbox: Bleeding

I - PROCEDURE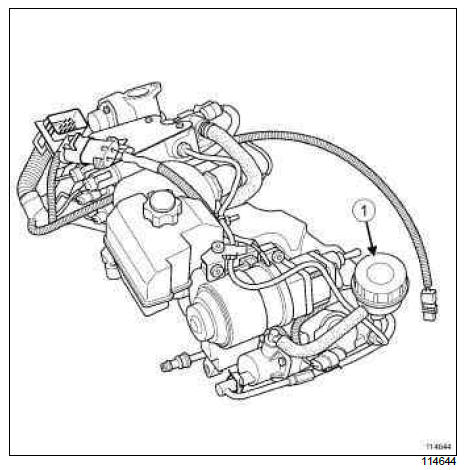 WARNING
Even a tiny air bubble can cause a malfunction.
Incorrect bleeding may cause fault finding errors and lead to an unnecessary part replacement.
II - GEARBOX REMOVED
WARNING
When removing the hydraulic clutch tappet, fill the tappet with an approved fluid (see 21B, Sequential gearbox, Sequential gearbox oil: Specifications, 21B-82) before refitting the gearbox, following the procedure described below.
Fill the reservoir (1) with approved clutch circuit fluid.
Activate the clutch tappet manually (releasing/engaging the clutch) until releasing/engaging the clutch becomes very difficult, without releasing any air bubbles. If necessary use the fluid (DOT4) to fill the reservoir.
III - GEARBOX IN POSITION
Drain the reservoir of approved clutch circuit fluid.
Remove the bleed screw cap.
Connect a transparent tube to the bleed screw, connected to a syringe with an effective volume of 60 cm3 filled with approved fluid.
Push the clutch pipe retaining clip and pull the pipe so that it is in the bleed position.
Slowly inject the fluid in the syringe, making sure that the fluid does not overflow out of the reservoir.
Carry out the Intake - Reflux operations slowly using the syringe until all of the air bubbles have disappeared.
Push the pipe back into the retaining clip.
Perform an auto-bleed using the Diagnostic tool.
Check that the system is operating correctly by carrying out a road test.
The level is correct when the fluid is halfway up the reservoir.
Electro-hydraulic unit: List and location of components
D4F, and JA3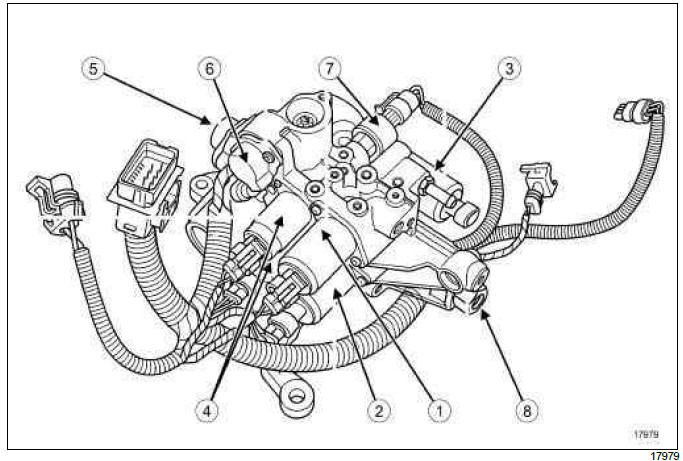 Clutch solenoid valve
Gear engagement solenoid valve
Gear engagement solenoid valve
Selection solenoid valve
Engagement sensor
Gear selection sensor
Solenoid valve unit pressure sensor
High pressure filter
K9K, and JA5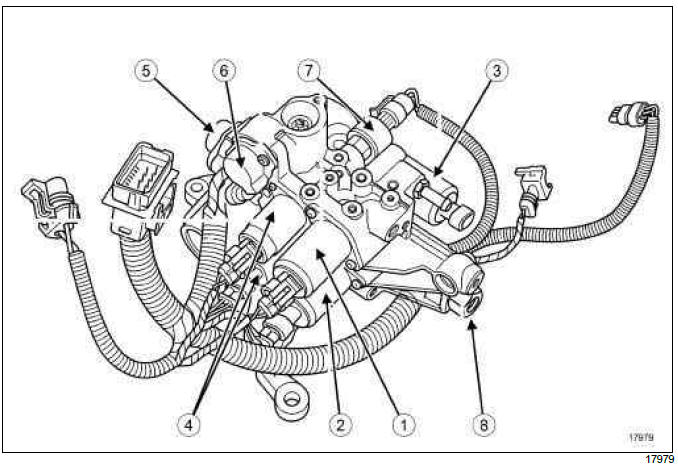 Clutch solenoid valve
Gear engagement solenoid valve
Gear engagement solenoid valve
Selection solenoid valve
Engagement sensor
Gear selection sensor
Solenoid valve unit pressure sensor
High-pressure filter
READ NEXT:
DP0 The automatic transmission series number can be found in two places: on a label on the hydraulic distributor cover (1) and etched onto the outer casing (2) on the wheel side. Automatic gearbox oi
K4M, and DP0 REMOVAL I - REMOVAL PREPARATION OPERATION Position the vehicle on a two-post lift (see Vehicle: Towing and lifting) (02A, Lifting equipment). Remove: the engine undertray, the fr
SEE MORE:
K9K, and 764 or 772 Disconnect the battery (see Battery: Removal - Refitting) (MR 392, 80A, Battery). Disconnect the inlet pressure sensor (1). Remove: the air duct (2) between the air filter and the intercooler, the air duct (3) between the intercooler and the turbocharger. Un
REMOVAL I - REMOVAL PREPARATION OPERATION Remove: the centre console (see 57A, Interior equipment, Centre console: Removal - Refitting, 57A- 14), the radio and/or the navigation system (see Radio: Removal - Refitting) (MR 392, 86A, Radio) or (see Radio navigation: Removal - Refitting) (M
© 2016-2023 Copyright Renault Clio Owners Club