Renault Clio: Tyre pressure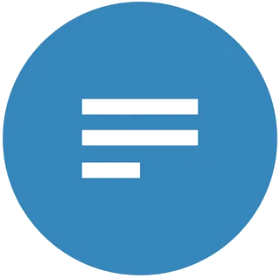 Renault Clio IV (2014-2019) Owners Manual
/
Maintenance
/ Tyre pressure
Label A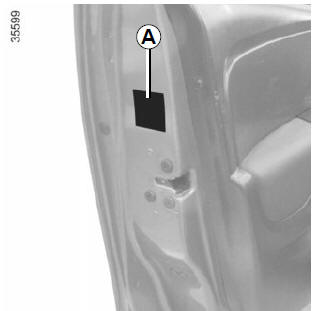 Open the driver's door to read it.
Tyre pressures should be checked when the tyres are cold.
If the tyre pressures cannot be checked when the tyres are cold, increase the pressures from 0.2 to 0.3 bar (or 3 PSI).
Never deflate a hot tyre.
Vehicle fitted with a tyre pressure loss warning system If under-inflated (puncture, low pressure, etc.), the warning light

on
the instrument panel comes on. See "Tyre pressure loss warning" in Section 2.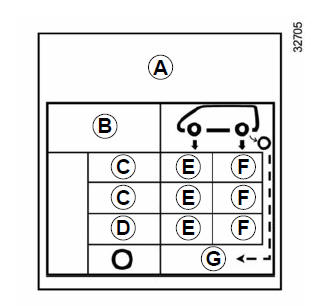 B: dimension of the tyres fitted to the vehicle.
C: intended driving speed.
D : recommended pressure for optimising fuel consumption.
NB: driving comfort may be altered.
E: front tyre pressure.
F: rear tyre pressure.
G: tyre pressure for the emergency spare wheel.
Special note concerning fully laden vehicles (Maximum Permissible All-Up Weight) and towing a trailer: the maximum speed must be limited to 60 mph (100 kph) and the tyre pressure increased by 0.2 bar.
Please refer to the information on "Weights" in Section 6.
Tyre safety and use of snow chains: Refer to the information on "Tyres" in Section 5 for the servicing conditions and, depending on the version, the use of chains.
For your safety, please respect the speed limit.

When they need to be replaced, only tyres of the same make, size, type and profile should be used on a single axle.

They must: either have a load capacity and speed rating at least equal to those of the original tyres, or conform to those recommended by an authorised dealer.

Failure to heed these instructions could endanger your safety and affect your vehicle's roadworthiness.

Risk of loss of control of the vehicle.
READ NEXT:
This is located under cover 1 and does not need to be serviced. Handle the battery with care as it contains sulphuric acid, which must not come into contact with eyes or skin. If
A well-maintained vehicle will last longer. It is therefore recommended to maintain the exterior of the vehicle regularly. Your vehicle has been treated with very effective anti-corrosion produc
A well-maintained vehicle will last longer. It is therefore recommended to maintain the interior of the vehicle regularly. A stain should always be dealt with swiftly. Whatever type of stain
SEE MORE:
This function assists the driver when starting on hills. It prevents the vehicle from rolling backwards, depending on the slope, by automatically applying the brakes when the driver lifts his/her foot off the brake pedal to depress the accelerator pedal. System operation It only operates whe
K9K, and JA5 REMOVAL REMOVAL PREPARATION OPERATION IMPORTANT Before any operation on the sequential system, discharge the accumulator using the Diagnostic tool. To discharge the accumulator, run command " Discharge pressure accumulator " AC081. To confirm the pressure drop, read the " Hydrauli
© 2016-2023 Copyright Renault Clio Owners Club