Renault Clio: Camshaft dephaser: Function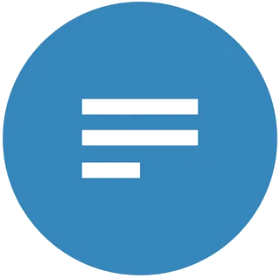 Renault Clio III (2005-2013) Service Manual
/
Engine And Peripherals
/
Top And Front Of Engine
/ Camshaft dephaser: Function
I - SPECIAL NOTES
Its role is to modify the valve timing.
To improve cylinder filling at all engine speeds, the engine is fitted with an inlet camshaft dephaser (1).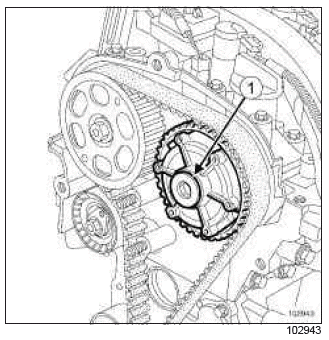 Dephasing at the moment when the inlet valves close optimises filling according to engine speed. Torque at midrange engine speed and output at high engine speed are improved.
Leaving the inlet valves open for longer at high engine speed allows the mixture to be continually admitted thanks to its high speed.
However, at lower engine speeds the gases do not have a high level of inertia. It is therefore preferable to close the inlet valves earlier to avoid incorrect filling and a loss of torque due to the reflux of fresh gases.
The higher the engine speed, the later the inlet valves must be closed.
II - OPERATION AND PROGRAMMING
The oil is supplied to the dephaser by a solenoid valve (2) located on the cylinder head.
The supply by a variable OCR signal (amplitude 12 V, frequency 250 Hz) enables oil to be distributed to the mechanism and the dephaser angle to be adjusted.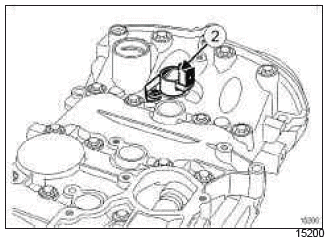 The operation of the camshaft dephaser varies continuously.
The computer supplies the solenoid valve (2) with a variable opening cyclic ratio proportional to the desired dephasing.
Dephasing is varied continuously from 0 to 43
READ NEXT:
M4R The engine and gearbox assembly must be removed to remove/refit the camshaft dephaser (see 10A, Engine and cylinder block assembly, Engine - gearbox assembly: Removal - Refitting, 10A-112).
D4F, and 740 or 742 or 764 REMOVAL I - REMOVAL PREPARATION OPERATION Position the vehicle on a two-post lift (see Vehicle: Towing and lifting) (MR 392, 02A, Lifting equipment). Disconnect the bat
K9K REMOVAL I - REMOVAL PREPARATION OPERATION Position the vehicle on a two-post lift (see Vehicle: Towing and lifting) (MR 392, 02A, Lifting equipment). Disconnect the battery (see Battery: Remo
SEE MORE:
WITHOUT SPORT SEATS, and DOCUMENTATION PHASE 2 IMPORTANT Before beginning work on any component of the safety system, it is essential to lock the airbag computer using the Diagnostic tool (see Airbag and pretensioners: Precautions for the repair) (88C, Airbag and pretensioners). When this function
REMOVAL I - REMOVAL PREPARATION OPERATION Position the vehicle on a two-post lift (see Vehicle: Towing and lifting) (MR 392, 02A, Lifting equipment). Disconnect the battery (see Battery: Removal - Refitting) (MR 392, 80A, Battery). Perform the following operations: drain the engine oil (see
© 2016-2023 Copyright Renault Clio Owners Club