Renault Clio: Front right-hand driveshaft gaiter, gearbox side: Removal - Refitting
DP0 or JH3 or JR5 or TL4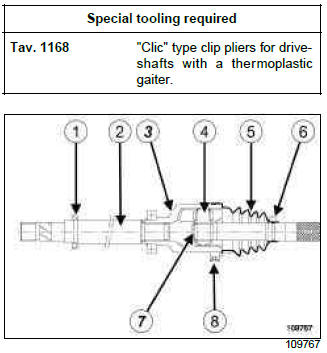 Deflector
Propeller shaft
Driveshaft yoke sleeve
Spider
RC gaiter
Tightening clip
Lock ring
Tightening ring
REMOVAL
I - REMOVAL PREPARATION OPERATION
Position the vehicle on a two-post lift (see Vehicle: Towing and lifting) (MR 392, 02A, Lifting equipment).
Disconnect the battery (see Battery: Removal - Refitting) (MR 392, 80A, Battery).
Remove the front right-hand driveshaft (see 29A, Driveshafts, Front right-hand driveshaft: Removal - Refitting, 29A-9).
II - OPERATION FOR REMOVAL OF PART CONCERNED
Cut the ring (8) and the tightening clip (6) using cutting pliers or a metal saw, taking care not to damage the yoke sleeve.
Push back the gaiter (5) to release the driveshaft yoke sleeve.
Remove as much grease as possible.
WARNING
Never use thinners to clean the components.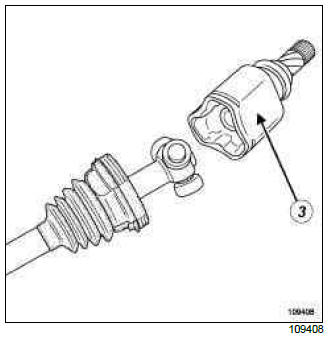 Remove the driveshaft yoke sleeve (3).
Note:
Since the driveshaft yoke sleeve does not have a stop tab, it can be removed without being forced.
Do not remove the rollers from their respective bushings as the rollers and needles are matched and should never be interchanged.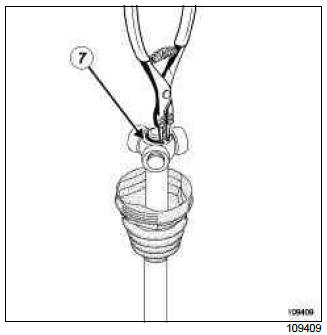 Remove the lock ring (7) using the tool.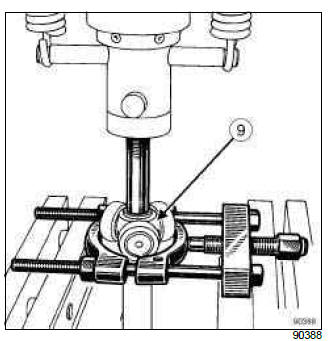 Extract the spider (9), using a press and a releasing type extractor.
Note: Mark the position of the spider before extracting it.
Remove the propeller shaft gaiter.
REFITTING
I - REFITTING OPERATION FOR PART CONCERNED
Fit the small tightening clip (6) to the propeller shaft.
Slightly lubricate the propeller shaft to facilitate fitting the gaiter.
Refit the propeller shaft gaiter.
Refit the spider (9) in the position marked during removal.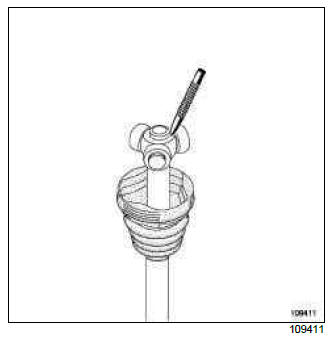 Refit the retaining lock ring (7) or crimp at three points at 120
READ NEXT:
DP0 or JH3 or JR5 or TL4 Tightening clip Tightening ring Cup Driveshaft yoke sleeve Deflector Propeller shaft RC gaiter Spider Lock ring Spring REMOVAL I - REMOVAL PREPARATION OPERATION
SEE MORE:
Diesel engine speed Diesel engines are fitted with injection equipment which prevents the engine speed being exceeded irrespective of the gear selected. If the message "CHECK ANTIPOLLUTION SYSTEM" is displayed along with warning lights and , consult an authorised dealer immediately.
K9K, and 764 or 766 or 768 or 772 REMOVAL I - REMOVAL PREPARATION OPERATION Position the vehicle on a two-post lift (see Vehicle: Towing and lifting) (MR 392, 02A, Lifting equipment). Remove the engine style cover. Disconnect the battery (see Battery: Removal - Refitting) (MR 392, 80A, Batter
© 2016-2020 Copyright www.rclio.com