Renault Clio: Rear inner sill upper trim: Removal - Refitting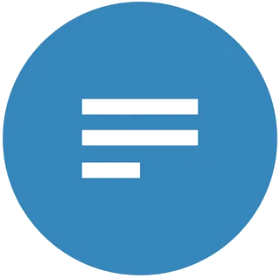 Renault Clio III (2005-2013) Service Manual
/
Trim And Upholstery
/
Body Internal Trim
/ Rear inner sill upper trim: Removal - Refitting
B85
REMOVAL
I - REMOVAL PREPARATION OPERATION
Remove the complete rear bench seat.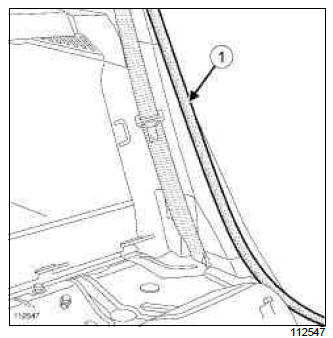 Partially remove seal (1).
II - OPERATION FOR REMOVAL OF PART CONCERNED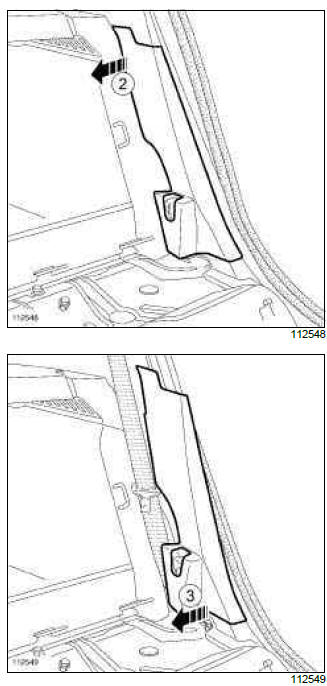 Remove the trim at (2) and at (3).
REFITTING
I - REFITTING OPERATION FOR PART CONCERNED
Refit the rear door sill upper trim.
II - FINAL OPERATION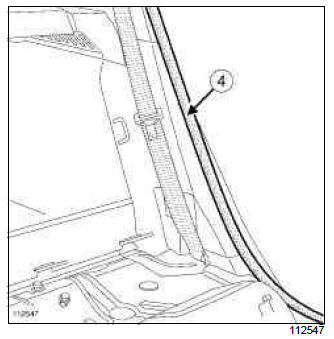 Refit the seal (4).
Refit the rear bench seat.
READ NEXT:
C85 REMOVAL I - REMOVAL PREPARATION OPERATION Remove: the rear wing panel lining (see 71A, Body internal trim, Rear panel lining: Removal - Refitting, 71A-32), the rear roof drip moulding lini
IMPORTANT Consult the safety and cleanliness advice and operation recommendations before carrying out any repair (see Airbag and pretensioners: Precautions for the repair) (88C, Airbags and pretensio
C85 or S85 REMOVAL I - REMOVAL PREPARATION OPERATION Remove the complete rear bench seat. Remove: the front seat belt support bolt (1). the front seat belt support. Unclip: the re
SEE MORE:
Note: If the window is broken, replace the sealing film (see Door sealing film: Removal - Refitting) (MR 393, 65A, Door sealing). REMOVAL I - REMOVAL PREPARATION OPERATION Remove: the door trim (see Front side door trim: Removal - Refitting) (MR 393,72A, Side opening element trim), the int
REMOVAL I - REMOVAL PREPARATION OPERATION Position the vehicle on a two-post lift (see Vehicle: Towing and lifting) (02A, Lifting equipment). Remove the front engine cover. Disconnect the battery (see Battery: Removal - Refitting) (80A, Battery). Remove: the nut (1) from the protective
© 2016-2023 Copyright Renault Clio Owners Club