Renault Clio: Roof bars/Spoiler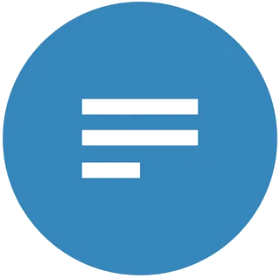 Renault Clio IV (2014-2019) Owners Manual
/
Your comfort
/ Roof bars/Spoiler
Accessing the mounting points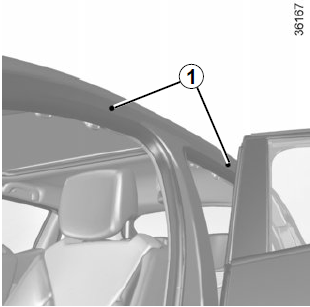 Open the doors to access the mounting points 1.
If original roof bars, approved by our Technical Department, are supplied with screws, only use these screws for attaching the roof bars to the vehicle.
Precautions during use
Handling the tailgate
Before handling the tailgate, check the objects and/or accessories (bike rack, roof box, etc.) fitted to the roof bars: these must be correctly positioned and secured, so as not to hinder the operation of the tailgate.
For information on the range of equipment adapted to your vehicle, we advise you to consult an approved Dealer.

Refer to the manufacturer's instructions for information on how to fit and use the roof rack bar.

Please keep these instructions with the rest of the vehicle documentation.

Maximum permissible load on roof rack: 80 kg (including the carrying device).
Spoiler A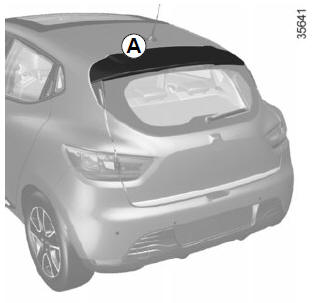 It is forbidden to fix objects and/or accessories (bike racks, etc.) to the spoiler.
READ NEXT:
The presence and location of this equipment depends on the vehicle version. Multimedia touchscreen; Multimedia sockets; Steering column control; Voice commands; Microphone. Refe
The maintenance of the Renault Clio IV (2014-2019) involves following the recommended guidelines provided in the owner's manual. Regular maintenance tasks include oil changes, filter replacements, and
To open the bonnet, pull the handle 1. Before performing any action in the engine compartment, the ignition must be switched off by pressing the engine stop button (please see
SEE MORE:
Adjusting the steering wheel height and depth Pull lever 1 and place the steering wheel in the required position; push the lever beyond the point of resistance to lock the steering wheel in place. Make sure that the steering wheel is correctly locked. For safety reasons, only
DRUM BRAKE REMOVAL I - REMOVAL PREPARATION OPERATION Put the vehicle on a two-post lift (see Vehicle: Towing and lifting). Release the parking brake. Remove: the rear wheels (see 35A, Wheels and tyres, Wheel: Removal - Refitting, 35A-1), the brake drum (see 33A, Rear axle components, Re
© 2016-2023 Copyright Renault Clio Owners Club